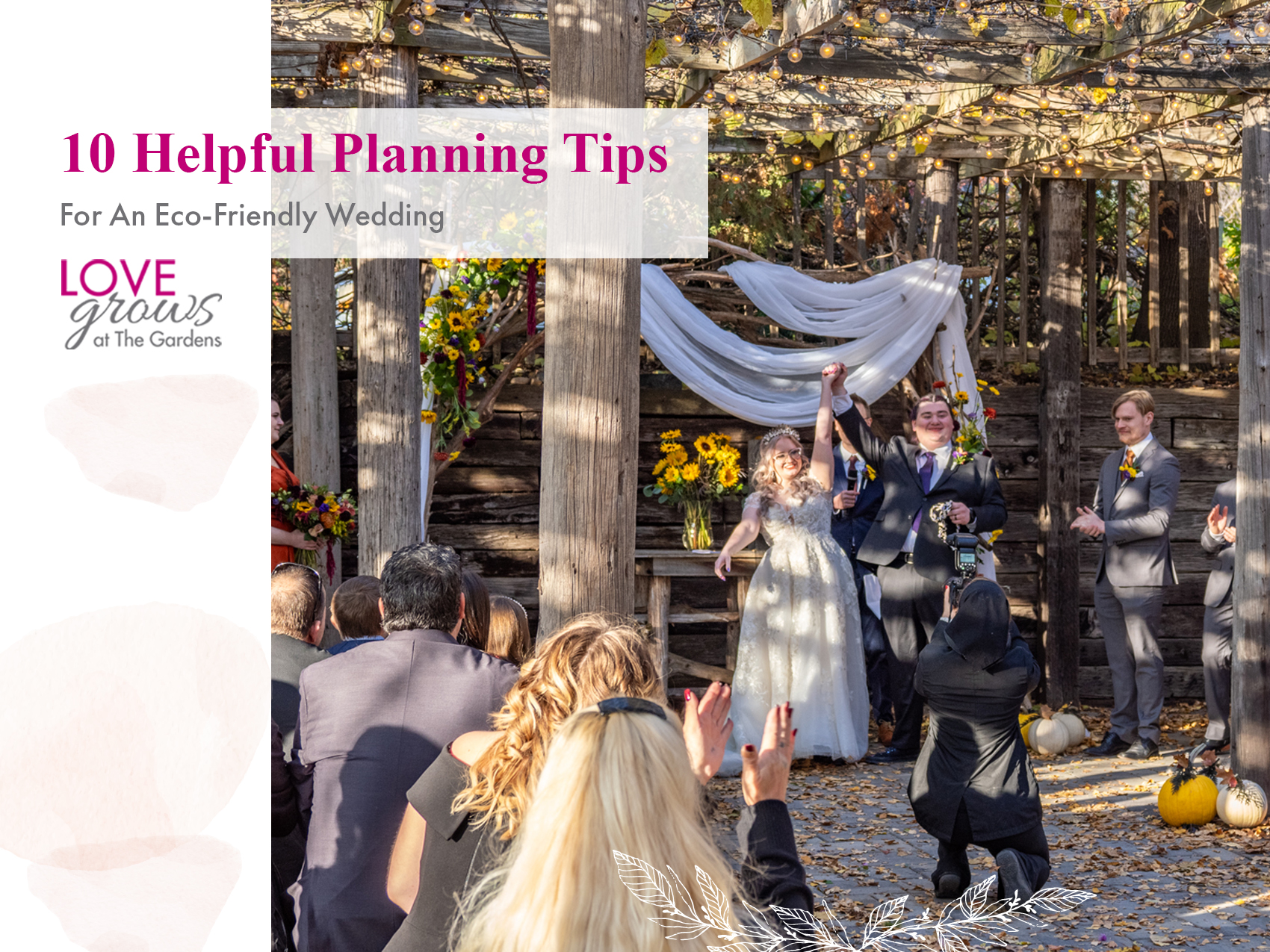 10 Helpful Planning Tips for an Eco-Friendly Wedding
Planning a wedding is a thrilling and joyous experience, but it can also be quite overwhelming, both for the couple and for the environment. Traditional weddings often generate a significant amount of waste and have a sizable carbon footprint, which can be tricky to navigate if you value being eco-conscious. However, it doesn't have to be that way. Having eco-friendly wedding is a fantastic way to celebrate your love while minimizing your impact on the planet.
In this blog post, we'll share ten helpful planning tips to make your wedding day more sustainable, from choosing eco-friendly vendors to reducing waste and embracing nature. Here at The Gardens, being eco-conscious is very important to us. Scroll to the bottom to find out how we ensure that our venue is as green as can be!
Start with Invitations
First thing's first – invitations! Your invitations to your guests – both save-the-dates and formal invitations – set the tone for your event. So, begin your eco-friendly wedding journey by selecting sustainable wedding invitations. Consider opting for digital invitations, or creating a wedding website where guests can see your invitation and RSVP all in one place. If you're set on printed invitations, choose ones made with recycled paper and that have minimal or no foil/plastic coatings. You can even buy invitations that are embedded with seeds, so your guests can plant them after receiving them! This small change can significantly reduce paper waste and energy consumption.
Choose an Eco-Conscious Venue
Selecting a mindful venue can have a big impact on the sustainability of your wedding. Look for venues that promote green practices, such as solar or wind-powered facilities, natural landscapes and native plants, or LED-certified buildings. Outdoor weddings in natural settings can also minimize the need for additional décor and lighting!
Sustainable Catering and Bar Service
Find a caterer who focuses on using locally sourced, organic, and seasonal ingredients, and ask about their policies and procedures to minimize food waste. Plan to have dishes, glassware, and utensils that are reusable, and consider opting for a plated or family-style dinner to further reduce single-use plastic waste. Another option is to offer a vegetarian or vegan menu option to further reduce your carbon footprint. For your bar service, find a company who works to ensure that all bottles, cans, and single-use plastic cups are properly recycled, and who does does not use plastic straws (The Gardens has a strict no plastic straws policy).
Eco-Friendly Décor
Opt for reusable or recyclable décor items like potted plants, candles, or fabric banners instead of disposable decorations. Consider shopping at second-hand or thrift stores for things such as glassware and candlesticks/votives, or check out wedding planning Facebook groups in your area – people frequently use them to pass along décor items after their own celebrations. Another option is décor rental – we can recommend several amazing vendors who can help bring your dream to life while also reducing waste. When looking at flowers, consider choosing a florist that works with seasonal and locally grown blooms, and then donate or compost them after the wedding.
Wedding Attire
Consider renting your wedding attire or choosing pre-owned dresses and suits that can be passed along after your event. Alternatively, select outfits that can be worn again for other occasions, such as classic suits and cocktail dresses. If you do buy new attire, opt for designers who use sustainable and ethical practices.
Eco-Friendly Favors
Show your guests appreciation with eco-friendly wedding favors. Give them reusable items like bamboo utensils, cloth bags, or personalized seed packets that encourage them to embrace sustainability in their daily lives. Additionally, ensure that your favors contain only packaging that is recyclable to cut down on landfill waste.
Minimize Transportation Impact
Reduce transportation emissions by choosing a location that's convenient for the majority of your guests. Encourage carpooling, provide shuttle services, or suggest using ridesharing apps for guests who need transportation. Additionally, choose a venue that allows you to have your ceremony and reception at the same location, eliminating the need for guests to travel between the ceremony site and reception venue.
Waste Reduction
Minimize waste by using reusable tableware and cutlery. If disposables are necessary, opt for compostable or biodegradable options and ensure they are clearly labeled recycling and composting stations to encourage guests to dispose of their waste responsibly.
Be Mindful With Favors for Your Wedding Party
It's a common tradition to give the members of your wedding party one or more gifts when asking them to stand with you on your day. Let this be a reminder that less is more – one thoughtfully chosen, unique gift is a better choice than giving multiple gifts that are more generic. Additionally, when planning bachelor or bachelorette parties, be mindful when selecting decorations and outfits to ensure that all items can be reused and/or recycled.
Donate and Share Leftovers
Coordinate with local food banks or shelters to donate any excess food from your wedding. Similarly, arrange for the proper recycling or donation of décor items, flowers, and other wedding elements to prevent unnecessary waste. Here at The Gardens, we will happily take your leftover flowers and greenery and add them to our onsite compost pile – just ask us for a bin!
Eco-Friendly at The Gardens
Being good stewards to the Earth is one of the most important values that we hold here at The Gardens. It's our goal to minimize the carbon footprint that our venue has, and we keep that in mind in our day-to-day operations. The vast majority of the lights on our property are LEDs, which both last longer and use less energy than traditional incandescent bulbs. When we build new structures around the venue, we use reclaimed and salvaged materials as much as possible, which not only keeps materials out of the landfill but also also helps us achieve that unique Gardens charm. We encourage the use of shuttle services, especially for events with a larger guest count. Additionally, because we host both the ceremony and reception on our property, it eliminates the need for transit between a ceremony site and reception location. We personally recycle aluminum cans, and work with local facilities to recycle glass and certain plastics. We also compost all organic waste produced on-site, from leaves to garden clippings. And as mentioned above, we'll happily compost any leftover flowers or greenery after your event – one less thing for you to worry about! We also work hard to curate an environment that lets the beauty of nature shine, so you can celebrate your love in a genuine, authentic environment.
Your wedding day is an opportunity to not only celebrate your love but also to make a positive impact on the environment. By keeping in mind these ten eco-friendly planning tips, you can significantly reduce your wedding's carbon footprint and inspire your guests to adopt more sustainable practices in their own lives. Remember, every little effort counts, and an eco-friendly wedding can be just as beautiful and memorable as a traditional one, with the added bonus of knowing you've done your part to protect the planet.
*Photos without photo credit were taken by a Gardens Team Member.