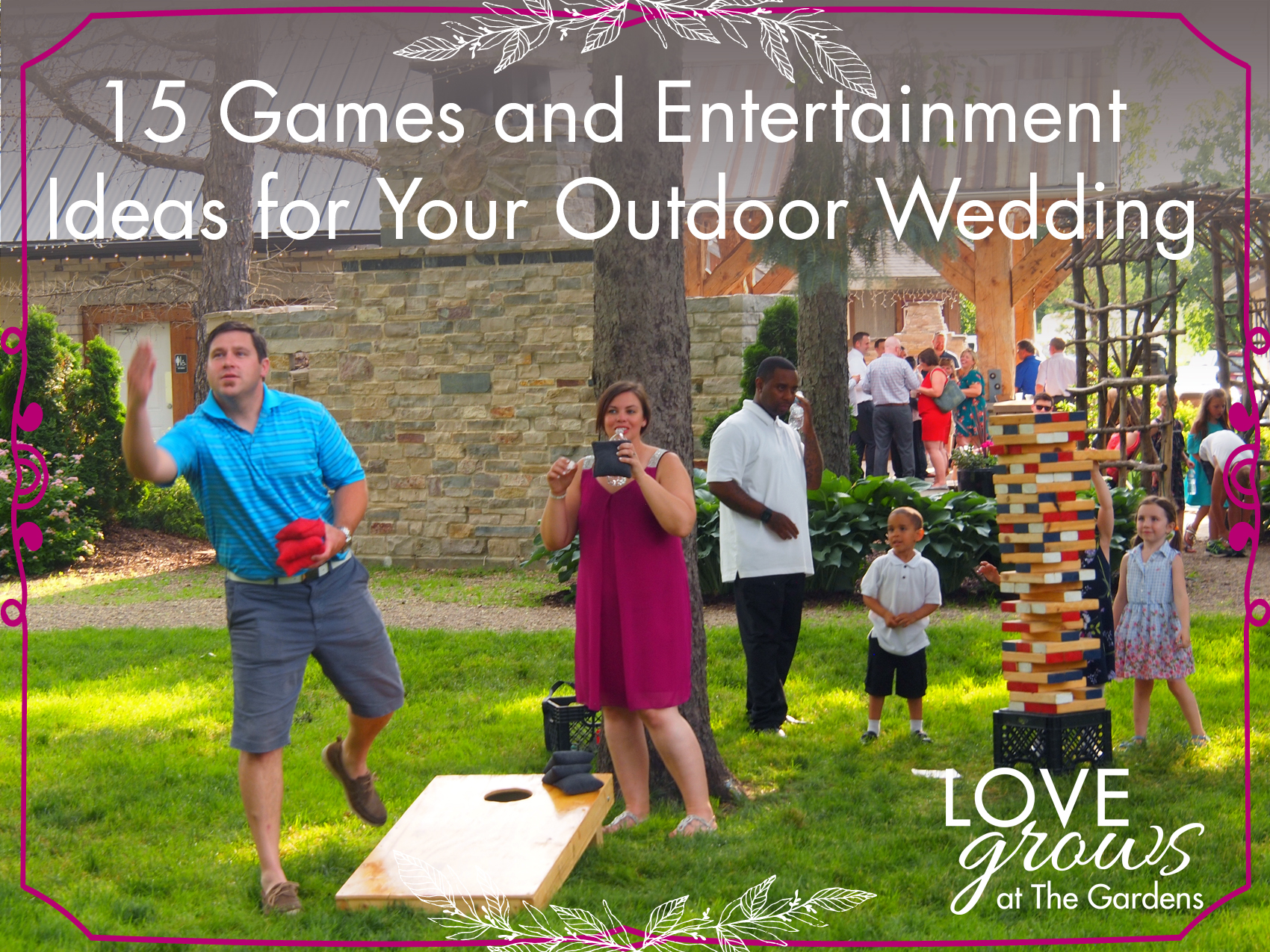 15 Games and Entertainment Ideas for Your Outdoor Wedding
If you're having an outdoor wedding this season, here are some great reception game ideas with a little something for everyone!
Your wedding day is surreal in so many ways. With close family, distant relatives, new friends and old college buddies, it can feel like a real-life episode of This is Your Life. While this is part of what makes your big day so much fun, it can also be a bit challenging to come up with activities for friends and family of all ages and interests. If you're having an outdoor wedding this season, here are some great reception game ideas with a little something for everyone!
1 – Giant Jenga: If you're looking for a game that guests of all ages will enjoy, create a giant Jenga from cut 2×4's. You can put it on the ground or up on a picnic table so it's easier to reach. Just watch out when it comes crashing down – it's a bit more dramatic when it's lifesize!
2 – Giant Jenga guestbook: If you like the idea of Giant Jenga, take it a step further and make it into a keepsake. Encourage guests to sign the blocks as they would a guestbook and reminisce about your special day for years to come every time you bust out this classic lawn game!
3 – Painted-Rock Tic-Tac-Toe: A cute twist on a classic game that even your littlest guests will enjoy, paint large rocks two different colors, make a board from 2×4's and watch guests challenge even perfect strangers to this fun and honest game.
4 – Cornhole: Also known as Bean Bag Toss, Bean Bags or just Bags, this fun game is great for a mix of ages and agility.
5 – Giant Checkers: Who doesn't love Checkers? Plus, your giant Checker board can double as a picnic blanket!
6 – Badminton: If you have ample space, this is a great addition to your outdoor lawn game selection and it's an easy game for team play.
7 – Wedding I-Spy for kids: Weddings and receptions can get long for young kids. Engage them in the day by creating a list of 20, 30 or 40 things they can look for at your ceremony and reception. Include a pencil to check off each box and tell them they can exchange their sheet at the end of the evening for a prize.
8 – Shoe game: Sit back-to-back with your new spouse and in front of your wedding guests. Each of you take off one of your shoes and hold it in your lap. Have your emcee read a list of questions they came up with in advance (or off the cuff!) with answers that could pertain to either one of you. If you think the best answer to the question is you, hold your shoe up in the air. If your spouse thinks it's them, they hold their shoe up in the air. A few fun examples: Who is the best kisser? Who made the first move? Who is most likely to plan an exotic vacation? Who's the penny-pincher? This game will really get the crowd roaring, especially when you both think you're the best answer to the question and each raises your shoe!
9 – Dart art: Buy a huge canvas or paint a large piece of plywood white and carefully attach balloons filled with acrylic paint. Set the canvas back a good distance and let each adult guest take a stab at popping a balloon with a dart or two. Your "dart art" will make a fun keepsake and guests will love exploding the color-filled balloons.
10 – Photo booth: Everyone loves a photo booth and will enjoy the souvenir pictures at the end of the evening. Make it even more fun with themed props!
11 – Bride and groom trivia: Create a trivia game with a gamut of questions about you and your soon-to-be-spouse! Place a trivia card with the placeholder at each guest's seat. Let guests know at the start of the reception that the trivia winner at each table takes home the centerpiece.
12 – Lego centerpieces at kids tables: Speaking of centerpieces, this is a great one for the kids tables! Put a big lego creation (or a few smaller ones) at the center of each table and let kids deconstruct and reconstruct them into their own creations throughout the evening. Send the legos at each table home with the kid whose creation is voted #1 by the bride or groom.
13 – Hula hoops and jump ropes: Keep busy kids occupied with active play! You may even spy a few adults reliving their youth with these fun childhood games.
14 – Marriage advice cards: Place a stack of blank cards, a pen and a jar either on one central table or on individual reception tables, with a sign asking each guest to contribute one piece of marriage advice for the happy couple. A 'date jar' is another fun spin on this and an easy way to solicit some great date ideas!
15 – Find-a-guest-who scavenger hunt: Examples: Find a guest who has lived overseas. Find a guest who shares your birth month. Challenge your guests to fill their sheet with signatures before the end of the evening! Guests with a completed sheet win a prize.
There is no lack of fun ways to keep guests of all ages engaged and mingling throughout your big day! Are you or someone you know recently engaged and looking for a great outdoor wedding venue? Give us a call at 651.264.9510 or reach out to us on our website to learn more about The Gardens of Castle Rock: info@thegardensofcastlerock.com