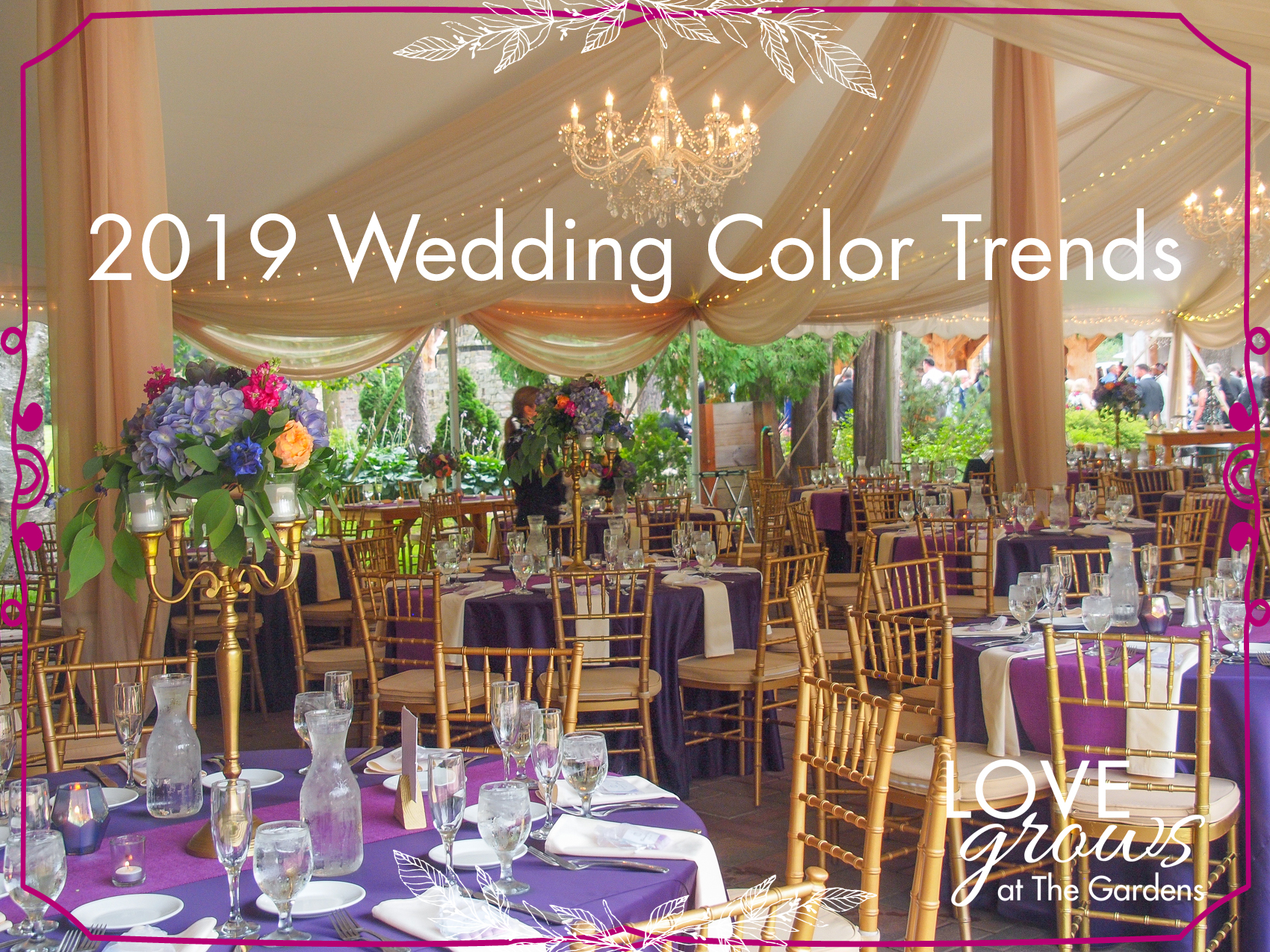 2019 Wedding Color Trends
Wedding color trends are largely influenced by wider color trends across various industries
The 2019 wedding season is officially upon us! As brides plan for their big day, one of the first things they decide on is their color scheme. While most brides don't realize it, wedding color trends are largely influenced by wider color trends across various industries including home furnishings and industrial design. Every year, the Pantone Color Institute sifts through color influences worldwide, presents a Color of the Year and highlights other trending colors. Here are some Pantone-inspired color palettes that you can expect to see reflected in 2019 wedding color trends.
Spring color trends
Taking cues from springtime blooms, expect to see tones of blushes, wisteria, peony and desert rose. Metallics continue to maintain their popularity this year and a metallic gold will pair nicely with these softer hues. Following the 60-30-10 rule (60% primary color, 30% secondary color, 10% accent color), finish off this springy palette with a pop of emerald green, reflective of flower stems and emerging greenery.
Summer color trends
Ahhh…summertime. Everything is in full bloom and bright bold colors are everywhere in sight. Many brides will follow suit and celebrate this colorful season in a bold way! This year will usher in rich berries and violets while deep emeralds and deep sea will be popular primary and secondary choices. For accents and contrast, greys and buttercup will help soften bold colors and weave them together.
Fall color trends
Fall in all its glory is quite a show-off and this fall will be no exception! Reflecting the golden and earthy tones of fall, this cozy color scheme showcases burnt yellow and orange while a natural green, slate blue and steely brown round out the palette. This scheme will be perfect for outdoor weddings with it's woodsy, autumnal feel.
Winter color trends
Winter weddings are a great opportunity to showcase the red hues! In the same way that dogwood and holly berries stand out amidst the snowy, sparkling winter landscape, this winter you can expect to see deep pomegranate reds accented with metallic silver. These colors will be woven together with a cool grey or blue for an elegant and seasonal look.
Are you planning to tie the knot in 2019? We still have some openings! Give us a call at 651.264.9510 or email us at info@thegardensofcastlerock.com to learn more about The Gardens or to book a tour!