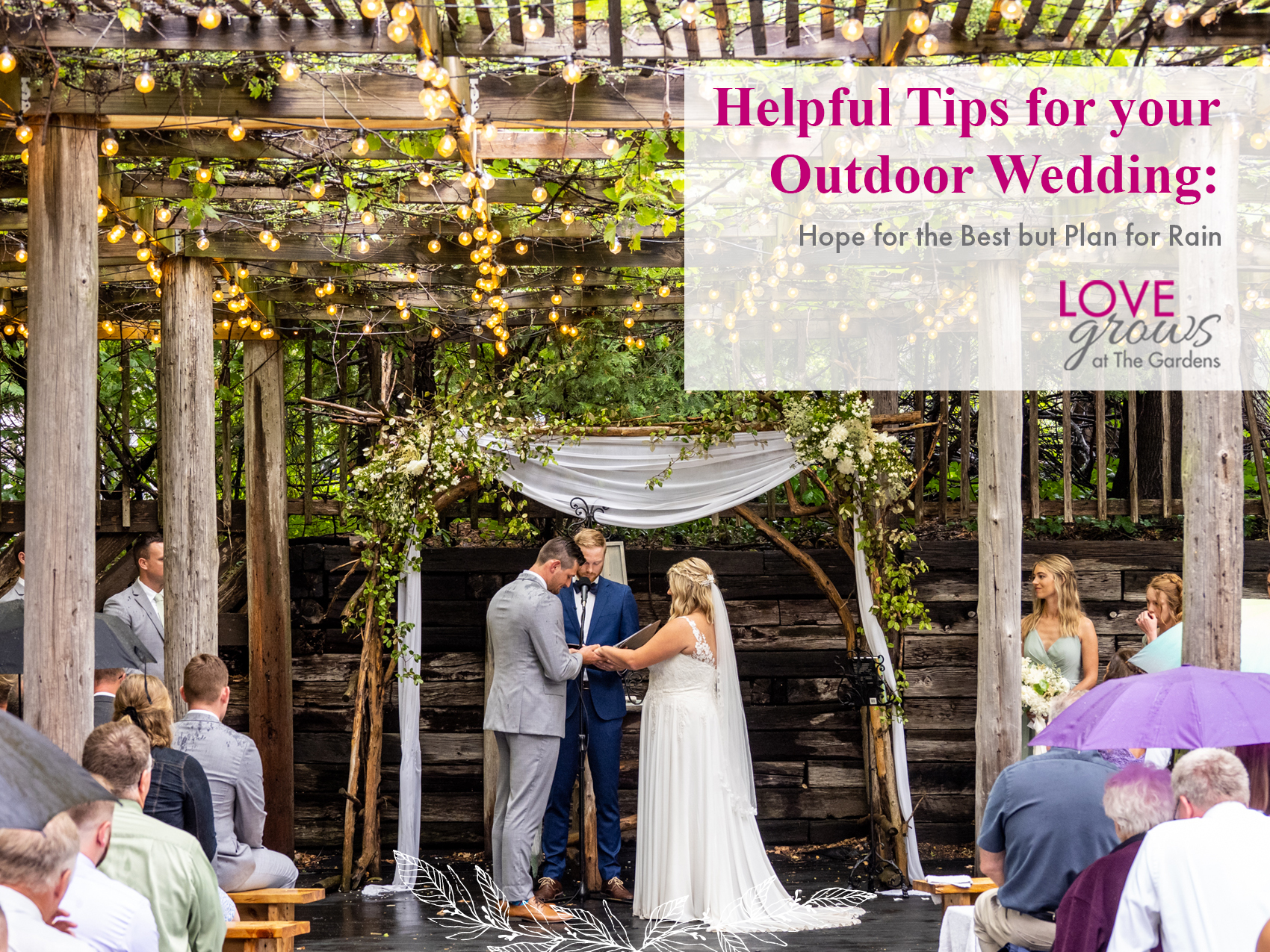 Helpful Tips for your Outdoor Wedding: Hope for the Best but Plan for Rain
Pop up showers and thunderstorms are not uncommon but don't let that rain on your parade…or your wedding!
In the months leading up to your wedding day, you undertake a tremendous amount of planning. If you're planning an outdoor wedding, this list is sure to include accommodations for inclement weather. During the summer and fall months, pop up showers and thunderstorms are not uncommon but don't let that rain on your parade…or your wedding! When making wedding plans keep these tips in mind so you're prepared for whatever Mother Nature decides to send your way.
Prepare Your Guests While you have been planning for your special day for some time and know all the ins and outs of your venue, your guests don't. Make sure to let your guests know what is appropriate to wear regardless of the weather.  Do let your guest know if rain is forecasted what would be best to wear and bring along for the day. Add a section to your wedding day website to keep guests informed.
Prepare Your Vendors Be sure to read the fine print on all the contracts you sign. Will the musicians still play if it's misting or lightly raining? If table linens, decorations, ceremony chairs, etc. end up wet or muddy what "falls under your umbrella" in terms of responsibility?
Umbrellas! This is one of the easiest ways to ensure that a little precip doesn't put a damper on the day. For as little as $2.99 at your local IKEA, you can buy a slew of these and keep them on hand 'just in case'. Be sure to choose clear umbrellas for the bride and groom since they will allow light to pass through and keep shadows off faces. If the weather is favorable and the umbrellas unused, they can be easily returned.
Stay Warm With rain, the sun hides behind the clouds and it cools off.  When the temp drops it's great to have some blankets available for guests and a pretty wrap for the bride and bridesmaids.
Towels It's wise to keep some of these on hand and out of sight in the instance you need to wipe surfaces down after a rain.
Protect Your Feet Not only trendy but also practical, it's smart to stash away some stylish rainboots for each member of the bridal party as well as the parents of the happy couple. If you need to bust them out, look forward to some memorable photo ops! Another great option for brides would be slip on heel protectors so stiletto's do not sink into the ground.
Protect Your Decor Securing and stowing some plastic tarps makes it easy to protect flowers, chairs, decor etc. in short order without the hassle of hauling everything into a tent or underneath a pavilion…
Shelter Even if your wedding is on a beach or in an open field, you can easily rent and erect a portable party tent. It gives guests a break from the heat and, strung with lights, makes a magical ballroom. What's more? If it rains, you're covered.
Remember that there are Memories in the Rain! Last but not least, attitude is everything. Obviously, rain on your wedding day isn't ideal and it's ok to be upset. Just don't stay there. Maintain the resolve that this is your special day and come hell or high water, nothing will ruin it. So make it memorable! Dance in the rain! Ask your photographer to capture all the funny little moments the rain is sure to provide. When you embrace what is out of your control, your guests will follow suit.
The Gardens of Castle Rock is all about making your 'Best Day Ever' your "Best Day Ever" whatever the weather. We would love the opportunity to answer any questions you have about hosting your amazing outdoor wedding at The Gardens. Give us a call at 651-264-9510 or email us at info@thegardensofcastlerock.com