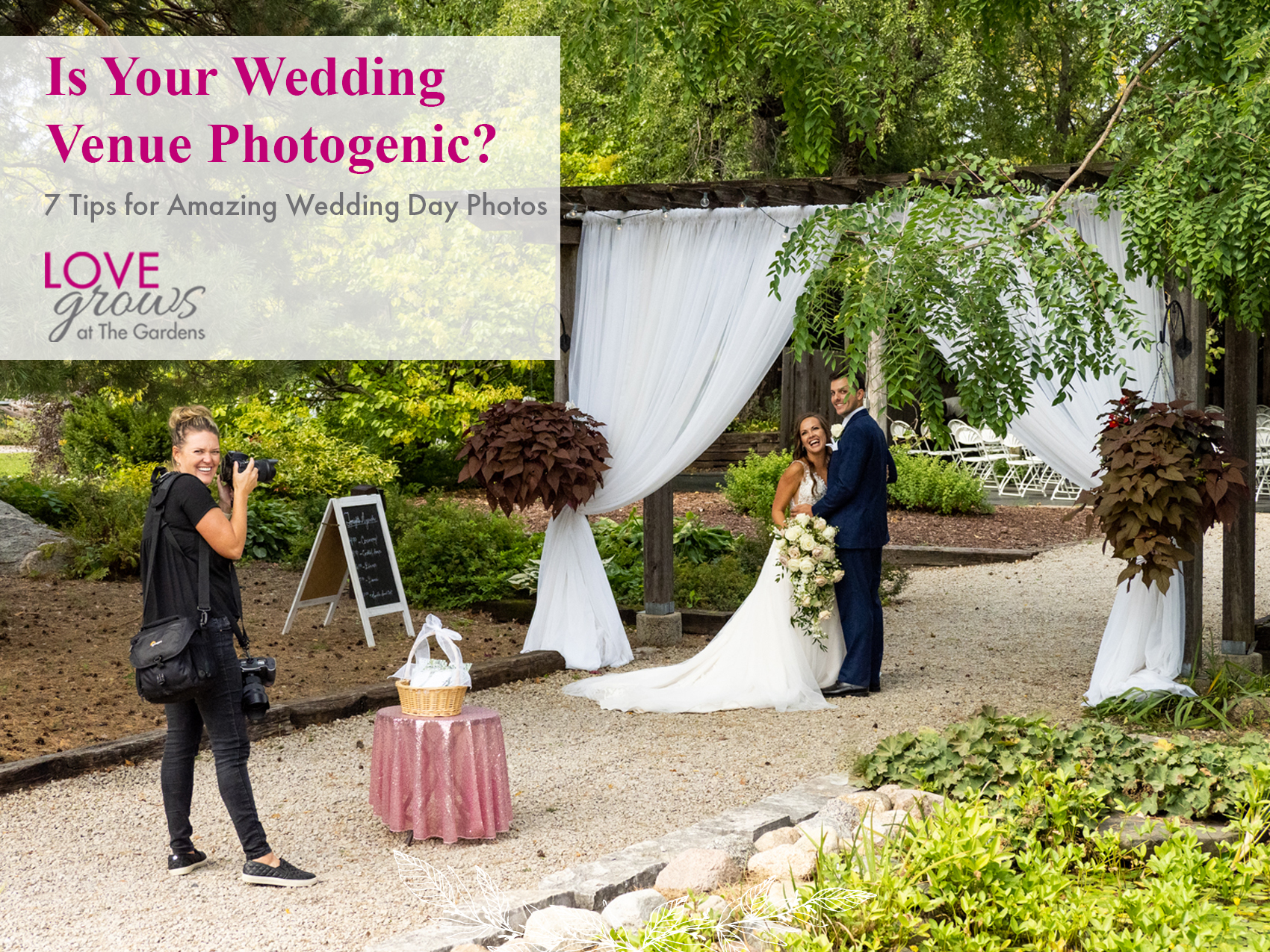 Is Your Venue Photogenic? 7 Tips for Amazing Wedding Day Photos
To ensure the best wedding day photos, make sure your venue has these important things……
When searching for the perfect venue for your wedding day, don't forget to consider the venue's photogenic qualities! Making sure your venue has these 7 things, and a talented photographer of course, to ensure you have beautiful photos to remember your wedding day for decades to come.
Are there outdoor shaded spaces? When the sun is high and there is not a cloud in sight, it is hard not to squint. Without adequate shade, sunglasses may become a new wedding party accessory of choice or you may have a lot of squinty eyed photos. Shaded areas allow for the couple and wedding party to be photographed with full smiles and open eyes. Plus, when photos can take hours, standing in the hot sun can quickly lead to sunburn and dehydration….not a great wedding day look!
Is there space for large group photos? When it comes to photos with large groups, be sure there is enough room. Whether you have a big wedding party or want to do a big extended family photo, make sure your venue has plenty of large open areas to spread everyone out at a comfortable distance.
Are there intimate spaces? We shared the importance of large spaces for groups photos, but just as important is your venue's ability to have intimate spaces that create a sense of privacy perfect for first looks and one-on-one romantic couple photos.
Are there props? We are not talking about funny hats and colorful boas, along those are great for  candid wedding reception photo booths. We're talking about props in terms of landscape features throughout the venue, like pergolas, water features and mature trees. A photographer with the right eye can incorporate these props into one-of-a-kind photos.
Can you get some great sunset shots?  Does your venue have an unobstructed western view for those once-in-a-lifetime sunset photos?  Stealing away from the party with your new spouse and photographer to capture these sunset moments will make for amazing photos.  
What type of lighting is available once the sun sets?  Once the sun sets, does your venue have exterior lighting?  Not just lighting to illuminate high traffic areas and the parking lot, but lighting that outlines buildings and hangs in trees to create a romantic vibe.
Does your venue allow for sparklers? If you are interested in a gorgeous sparkler shot, double check with your venue representative to ensure they allow the use of sparklers on their property. Due to liability and fire danger,
not all venues allow for sparklers. Also, double check with your photographer that they will be there to capture the sparkler shot, as this can be one of the last activities of the evening.
Bonus Tip…..When touring a potential venue, ask the venue representative if the entire venue will be accessible to you for photos on your wedding day. Venues that are open to the public during your event, may limit the amount of time you can access spaces or may not allow you to take photos in certain areas at all.
To begin planning your perfect wedding day, schedule a tour of The Gardens of Castle Rock.  To see more beautiful photos, visit our website gallery and as always, if you have any questions, feel free to contact us at 651-264.9510 or info@thegardensofcastlerock.com