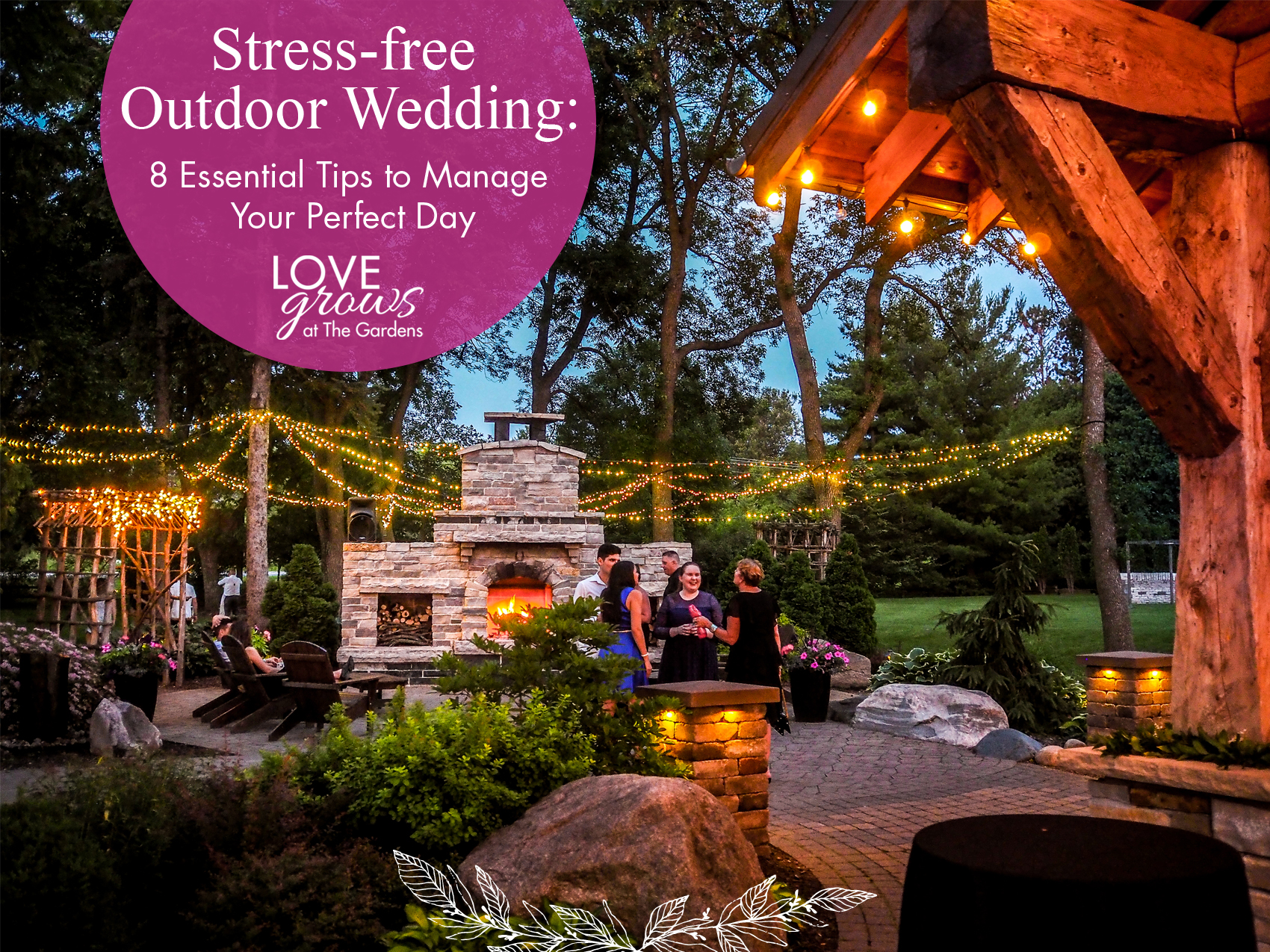 Stress-Free Outdoor Wedding: 8 Essential Tips to Manage Your Perfect Day
Planning an outdoor wedding is easy-peasy when you know these important tips.
The grass between your bare feet. A gentle breeze carrying the fresh smell of spring. The rich golden hues of falling leaves. The warm long summer evenings spent catching up with friends. Whatever the season, experiencing the beauty of the outdoors is like nothing else. Having an outdoor wedding creates a beautiful backdrop for your most important day. But, with the outdoors comes a variety of variables you need to consider. Addressing these issues with help create a stress-free day.
Rain, rain go away and when it does, here comes the sun…….Did you know there are actually more full sun days than rainy days? That's why it's important to not only have a Plan B for rainy weather, but to also have a plan for a hot full sun day. Provide guests with sunscreen in case they forgot to lather up before leaving home and be sure to choose an outdoor wedding venue with plenty of available shade.
The wind vs. your adorable Pinterest décor…… You found the most adorable Pinterest table centerpiece ideas that you want to incorporate into your wedding day, but remember when hosting an outdoor wedding there is a high likelihood that you will be dealing with some sort of wind, whether it be a refreshing light breeze or some strong gusts. To figure out if your ideal tablescape will work for your event, set it up outside on a table and leave it for the day. At the end of the day, you'll know what can handle the wind and what you need to hunt down in the neighbor's yard.
Outdoor wedding venues come in many shapes and sizes…… With so many choices when it comes to outdoor wedding venues, deciding to be outdoors is just the start. Whether you choose a farm-barn venue, formal city park, arboretum or garden venue, they all have different surfaces and guest accommodations. A city park may have level paving and formal benches or chairs so it is okay for guests to wear dresses with heels or suits with polished dress shoes. If your venue is a little more rustic and natural with gravel/dirt surfaces or hay bales for sitting, guests may want to consider casual attire with flats, wedges or sandals. The bottom line, communicate the details about your outdoor venue so guests can be the most comfortable.
Not to sound like you mom, but "layers, layer, layers!" Outdoor weddings, no matter the season, have temperature changes throughout the day. Let your guests know that once the sun goes down, it might be a good idea to have a sweater, fleece or their favorite North Face. Another fun way to make sure guests are warm and cozy, especially for weddings in the early spring and fall, is to provide small fleece blankets as party favors.
Looking for a laid-back vibe, an outdoor wedding is the way to go! We all know that Mother Nature has a mind of her own and when having an outdoor wedding, flexibility is key. Let's be honest, being outdoors brings more variables into the equation. If you're counting on everything running on a perfectly timed schedule, an outdoor wedding may not be your best option. Outdoor wedding venues tend to be larger and more spread out than an indoor space, so you'll want to consider that in your planning. The abundance of space is one of the many reasons outdoor weddings are so much more fun. From dancing the night away, to sitting by a cozy fireplace or enjoying a quiet walk while catching up with a close friend, guests will have so many options to enjoy your event.
3 Very Important Questions….. When choosing an outdoor wedding venue, ask these three important questions:
1. How long is the rental of the venue? The majority of outdoor venues rent the space for 12-hours, typically noon-midnight. Being able to access the venue before noon, allows you more time to decorate, relax and soak in the day.
2. Do we have access to the entire venue? Some outdoor venues, like private clubs or golf courses, only have certain areas accessible to you on your wedding day as they have to also accommodate club members and other guests. If you see a gorgeous spot or area while touring an outdoor venue that you'd love be able to use on your wedding day, be sure to ask the venue representative if that area is accessible to you.
3. Are there other weddings/events held at the venue at the same time as ours? If you don't want to worry about guests from other weddings mistakenly joining yours or the general public wandering through your ceremony during your vows, be sure to ask the venue representative if the venue hosts multiple weddings/events or is open to the public on your wedding day.
Don't obsess about Plan B…… Yes, there is a possibility that you may have to use your Plan B should it rain, but don't overly plan for it. Talk with your venue representative to get their feel on a rain event. If the venue representative is nervous and shies away from the question, consider that a red flag. If they answer confidently outlining their backup plan for less than perfect weather, know that whatever your day holds weather wise, both you and the venue will be prepared.
Can you hear me now? How about now? The outdoors is amazing for a lot of things, but containing sound is not one of them. With an abundance of space also comes the ability for sound to be carried off and guests unable to hear your "I Do's". Be sure to find out if your venue provides microphones and a speaker for your ceremony or if you need to hire a DJ or sound tech to provide a ceremony sound system. Are you wanting a string quartet or other live music option for your ceremony? Be sure your musicians have a sound system so the beautiful music can be heard by everyone.
With a little planning and attention, these variables are easy to overcome to create the most memorable outdoor wedding. Making your event truly one of a kind.