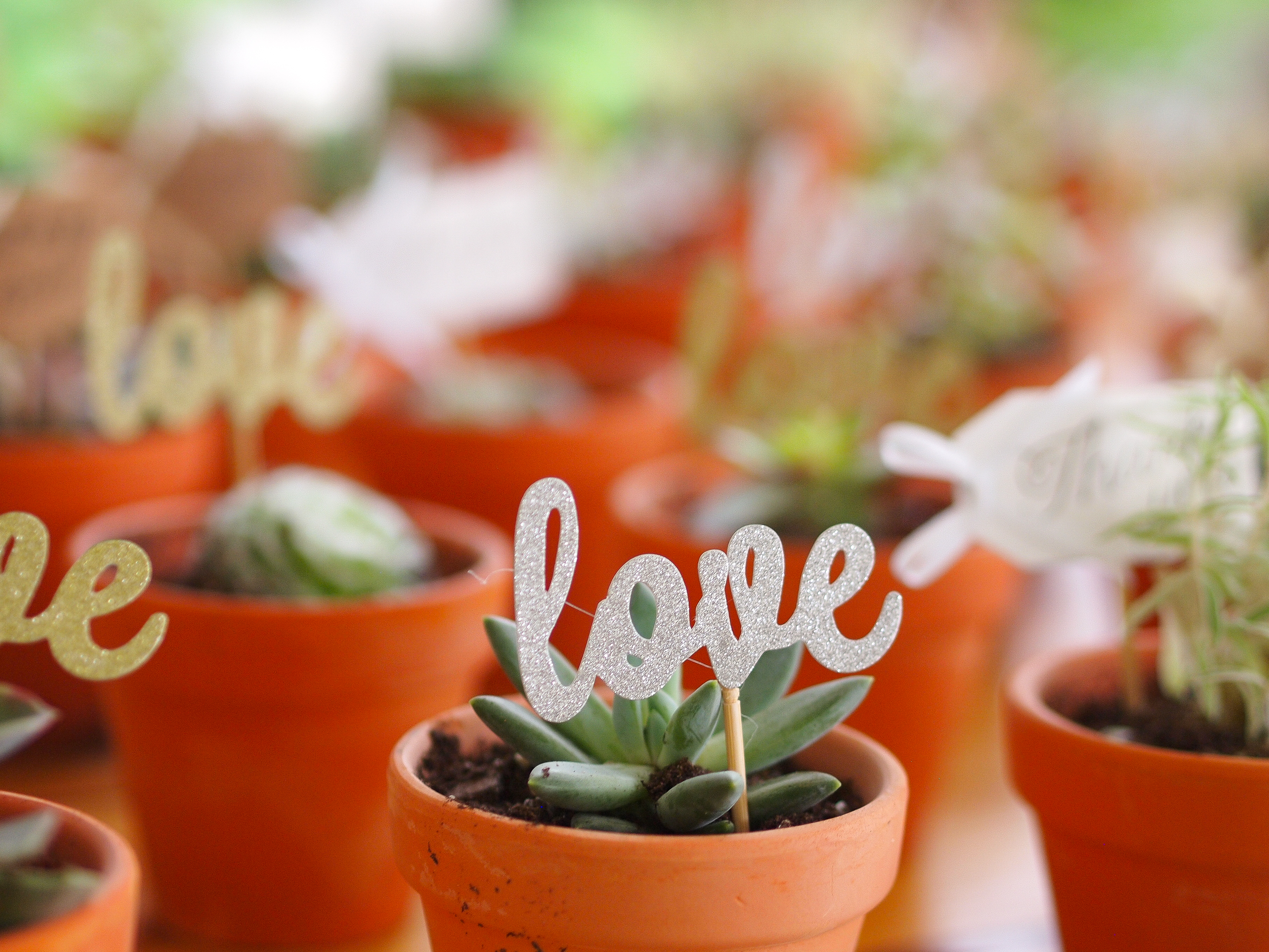 Ten Garden-Inspired DIY Wedding Favors for your Spring or Summer Wedding!
Ten Garden-Inspired DIY Wedding Favors for your Spring or Summer Wedding!
You'r in luck if you're planning a garden themed wedding!
There are about a zillion details to consider when planning a wedding. Choosing wedding favors is just one of the many decisions a bride and groom will make. If you're planning a garden-themed wedding, however, you're in luck. We've weeded through those zillions of ideas and pulled up our Top 10!
1. Terrariums: The sky's the limit here. You can customize terrariums with moss, charcoal, small stones, glass…and add ferns, succulent plants, air plants – even miniature fairies!
2. Mini potted herbs or vegetables: Potting herbs or veggies in decorative little pots (possibly wrapped in burlap?) are an eco, practical and aromatic way to thank your guests for celebrating with you on your big day.
3. Glass boxes with a fern: Choose a tiny fern and place it in an open glass box on top of each guest's place card. No two are alike which adds to the charm and the glass box makes a lovely gift.
4. Petal poppers: Forget rice. Petal poppers add a beautiful splash of color to your photos as guests 'pop' their popper and shower petals (rose, lilac, hydrangea…!) on the new bride and groom. The best part? No cleanup needed.
5. Chocolate flower bark boxes: There are numerous ways to incorporate flowers into your garden-inspired, including into the food! A box of homemade flower petal-laced white chocolate bark in decorative boxes makes a perfect little thank you.
6. Blossom hearts: Consider buying paper embedded with wildflower seeds and cut it into hearts or flowers using a die-cut machine. These paper shapes can serve as place cards and guests can take them home and plant them.
7. Bellini petal lollipops: What could be better than flower petals and mint leaves suspended in transparent, rose-tinted candy with a champagne twist?
8. Personalized mini glass jars: These are customizable to the max! Secure mini glass jars with wire-snap lids and fill them with anything from homemade jam to dried herbs to local honey…or anything in between! They're adorable on their own or can be wrapped in twine for a little 'country' flair.
9. DIY botanical wood slices: Purchase these small wood slices at your local craft store. Then, with an inkjet printer and waxed paper transfer a floral imagine onto the wood and voilà – vintage coasters!
10. Succulents: These are everywhere on wedding scene right now! Consider adding these to the terrariums ( see #1), potting them in tiny, multi-colored pots and placing them on reception tables or bagging them in brown bags (embellished with a special message) for each guest to pick from when they leave.
11. BONUS Idea ~ Flower Seed Packets: Love grows at The Gardens! So why not send some of that home with your guests! Seed packets are a great why for your weeding to grow on in the gardens of your guests.
There's no better place to have a garden-themed wedding then at a garden wedding venue. Take a look at many of the wonderful areas at The Gardens of Castle Rock in our Photo Gallery. Feel free to drop us a note to get more information on planning your dream garden wedding at info@thegardensofcastlerock.com