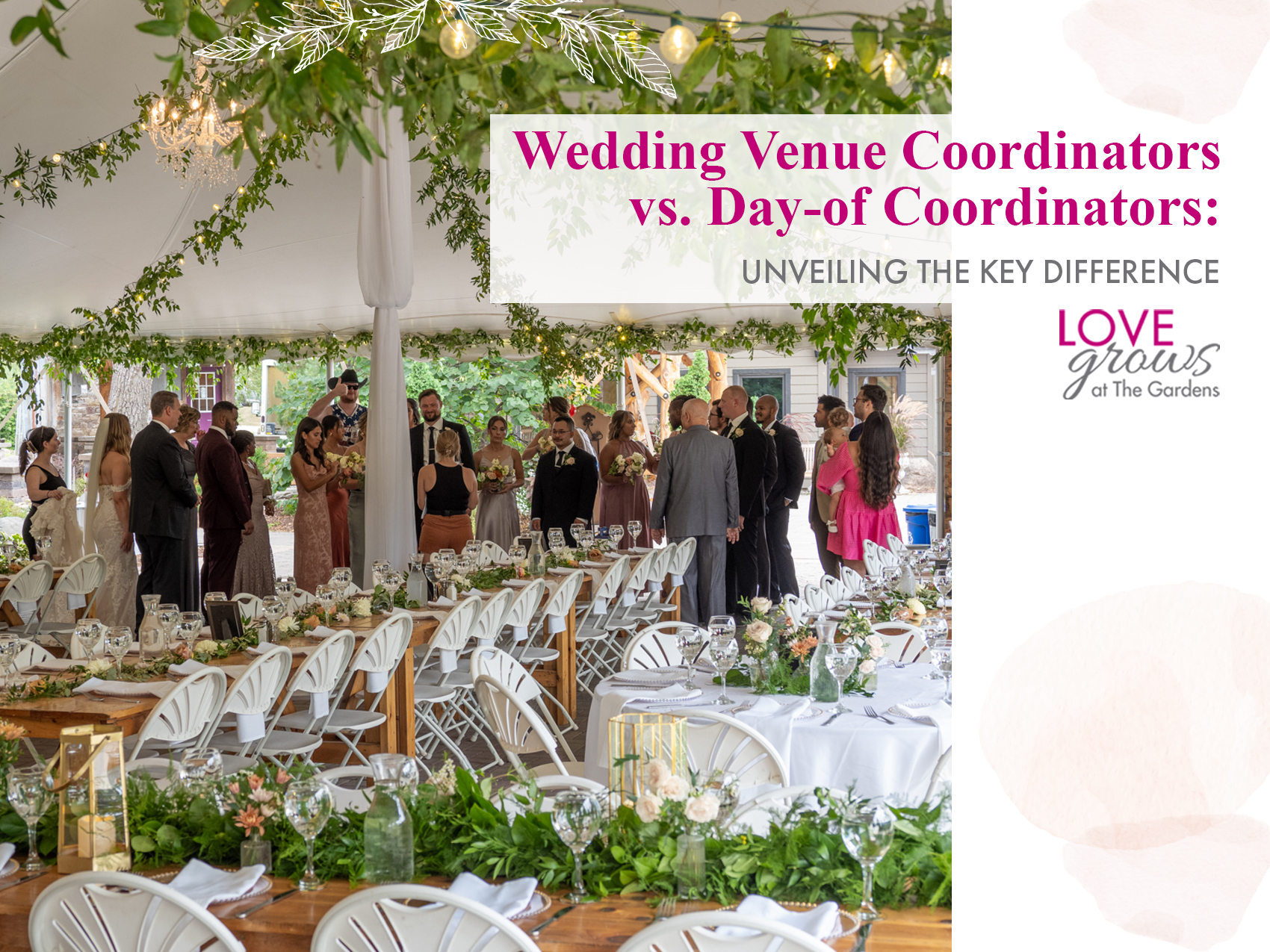 Wedding Venue Coordinators vs. Day-of Coordinators: Unveiling the Key Differences
When planning your dream wedding, you'll often come across the terms "venue coordinator" and "day-of coordinator." While they both play crucial roles in ensuring your big day runs smoothly, it's important to understand the distinctions between these two positions so you can make informed decisions about your wedding coordination. In this blog post, we'll break down the differences between a wedding venue coordinator and a day-of coordinator to help you navigate the intricacies of your special day. In a nutshell – a venue coordinator is the representative from the venue. Their job is to ensure that everything the venue provides for your day is set up and accounted for, from placing tables and chairs to stocking soap in the bathrooms. A day-of coordinator is your personal representative who is responsible for keeping track of every detail to ensure your wedding day is smooth-sailing for everyone involved. Let's break it down:
The Venue Coordinator
If you're getting married at a dedicated wedding venue or event center, it is likely that your chosen location will have a venue coordinator. The responsibilities assigned to venue coordinators can vary widely depending on the specific venue; some have more responsibilities and others are more hands-off. The following list gives an overview of common venue coordinator responsibilities, as well as things to consider:
Employed by the Venue: A venue coordinator is typically an employee of the wedding venue. They are responsible for managing the logistics and details directly related to the venue itself. This individual is your go-to person for all matters related to the venue, as they are intimately familiar with the ins and outs of the facility and have a direct line of communication with the venue's staff.
Venue-Centric: Their primary focus is ensuring everything within the venue operates smoothly. This includes overseeing the setup of tables and chairs, managing the venue's facilities, and addressing any venue-specific concerns that arise. Your venue coordinator is all about making sure that the space you've chosen for your wedding looks stunning and functions perfectly. They'll work with you to determine the best layout for your ceremony and reception, help you choose the right menu options if the venue provides catering, and ensure that any additional venue services, like lighting or upgrades, are set up as planned.
Pre-Event Planning: Venue coordinators are involved in the pre-wedding planning process, especially in terms of logistics specific to the venue. They'll assist with menu choices (if the venue has an in-house caterer), layout options, and coordination of venue-specific services. Before your big day, you'll likely have a meeting with your venue coordinator to discuss your vision for the event. They'll help you make decisions about the layout of the space, ensuring it flows well for your guests. They can also provide valuable input on the timing of different elements, such as when to serve dinner or when to have your first dance.
Limited Time Frame: Their responsibilities are largely confined to the venue, and their involvement may end once the reception is underway, as their main goal is to ensure that the venue looks stunning and is ready for your guests. Once your wedding ceremony is over and the reception is in full swing, the venue coordinator's role often shifts to making sure everything within the venue continues to run smoothly. They likely will not be as involved in managing the flow of the entire wedding day beyond the venue's boundaries.
The Day-of Coordinator
No matter where you're getting married, whether a five-star hotel or your grandparents' backyard, we absolutely always recommend having a professional day-of coordinator. Your only job on your wedding day should be marrying the love of your life. Keeping the day on schedule, fussing over centerpieces, and dealing with any issues that arise (because they will) takes away from the magic of your day. Tasks like these are the bread and butter of day-of coordinators, who will delegate accordingly and help your wedding to go as smoothly as possible – while you enjoy the day!
Hired by the Couple: A day-of coordinator is typically an independent professional hired by the couple to manage the overall flow and details of the wedding day. Unlike the venue coordinator, who is tied to the venue itself, a day-of coordinator is hired by you, the couple, as an advocate for your event. Their sole purpose is to make sure your entire wedding day goes off without a hitch!
Comprehensive Coordination: Day-of coordinators oversee the entire wedding day, from set-up to tear-down, including both the ceremony and reception. They act as a point of contact for all vendors and ensure that the wedding runs smoothly from start to finish. One of the primary distinctions of a day-of coordinator is their comprehensive approach to wedding coordination. They oversee the entire event, not just the venue-related aspects. This includes managing the timing of events, coordinating with various vendors (photographers, caterers, florists, etc.), and ensuring that everything on your wedding day follows the plan you've carefully crafted.
Timeline Management: One of the most valuable services a day-of coordinator provides is the creation and management of a detailed timeline for your wedding day, which they manage while coordinating with vendors, assisting with set-up, and handling any unforeseen issues that may arise. They work closely with you to establish the order of events, ensuring that everything flows seamlessly. They share this timeline with all your vendors, so everyone is on the same page and knows where they need to be and when.
Focus on You: A day-of coordinator's primary focus is on the couple and their vision for the day. They ensure your preferences are met and that your day unfolds as you've imagined. Perhaps the most important role of a day-of coordinator is to be your advocate and ensure your wedding day reflects your vision. They'll work with you leading up to the wedding to understand your wishes and any special requests. On the day itself, they'll be by your side, handling any issues or concerns that arise, so you can relax and enjoy the celebration.
If you want a stress-free wedding day where you can fully immerse yourself in the festivities without worrying about logistics, a day-of coordinator is an excellent investment. They bring extensive experience and expertise to help ensure that your vision becomes a reality. Their sole focus is on making sure every element of your day flows seamlessly, and will take the reins allowing you to relax and enjoy the celebration without worrying about the details.
While venue coordinators provide a valuable service in preparing the space for your big day, they are not a substitute for the expanse of knowledge and skill provided by a day-of-coordinator. Without a professional day-of-coordinator, more of the details and stress will fall to you and your partner, which can take away from your special day. The main difference between a wedding venue coordinator and a day-of coordinator is their scope of responsibility and focus, as both play critical roles in orchestrating a memorable wedding. While a venue coordinator concentrates on the venue's logistics, a day-of coordinator manages the entire wedding day, allowing you to relax and enjoy your special day to the fullest.
The Gardens wants your wedding day to be the most memorable day of your life.  That is why we require all couples to hire a professional day-of-coordinator for their wedding day at The Gardens of Castle Rock. We even provide couples, who have reserved their date at The Gardens, a Day-of-Coordinator Recommendation List full of talented professionals with awesome skills and familiarity with The Gardens who are ready to help bring your wedding day vision to life.
Day-of Coordinators are invaluable when it comes to having a seamless low-stress wedding day. We understand Day-of Coordinators have a variety of responsibilities and tasks they must complete for the couple throughout the event. The Gardens Day-of Coordinators Guidelines lists the The Gardens expectations for Day-of Coordinators working an event at the venue.
Looking for a Day-of Coordinator who will "get the job" done for you on your wedding day?  Shout out to the following Day-of Coordinators who have done a tremendous job working event(s) at The Gardens recently:
Ashley Skeie Event Planning, Floral & Design
Blush & Bubbly Weddings & Events
*All photos taken by The Gardens of Castle Rock staff.