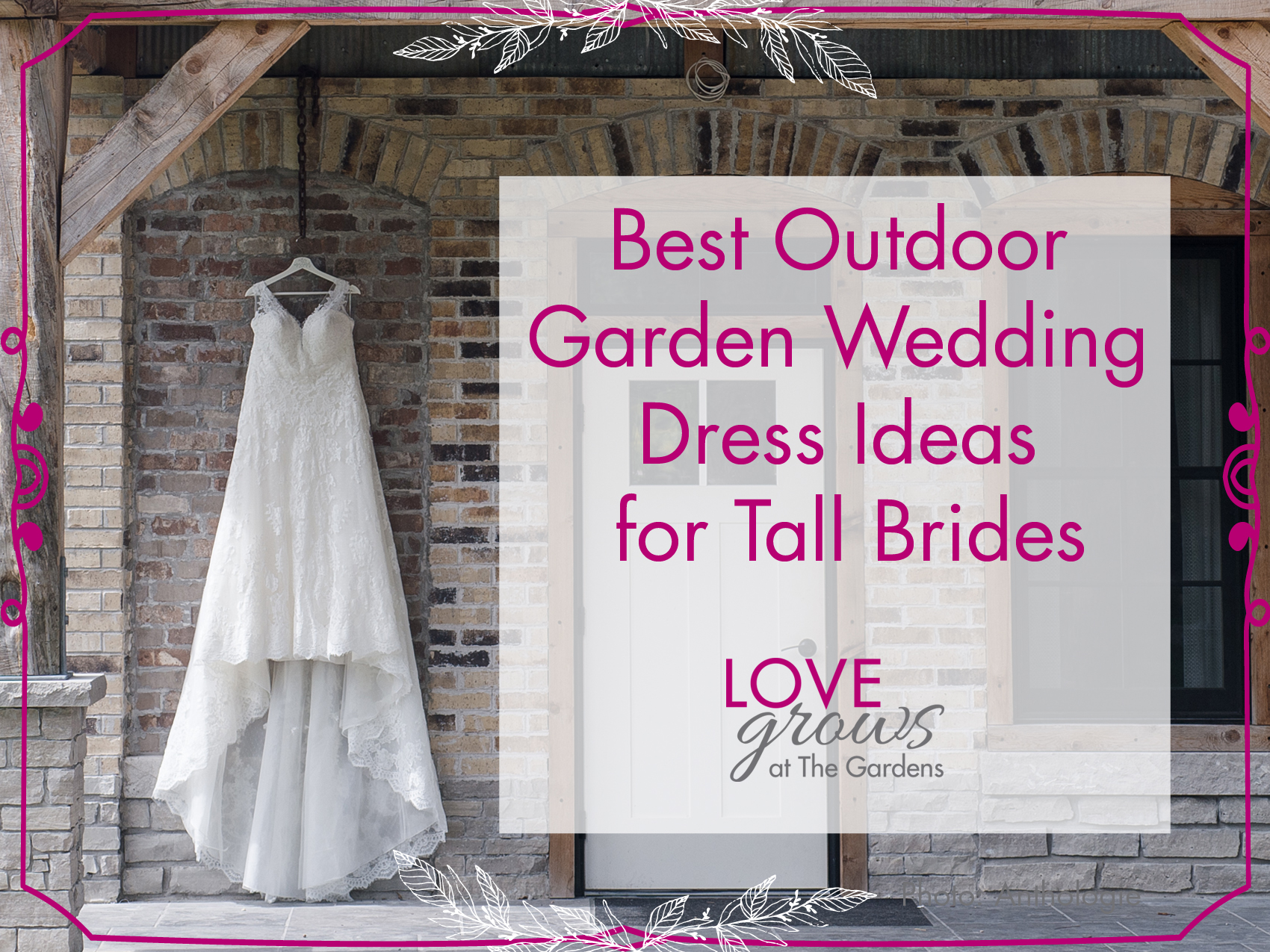 Best Outdoor Garden Wedding Dress Ideas for Tall Brides
Long & flowy, mermaid, princess cut or keyhole back….these dresses compliment your height.
For some brides, their wedding is a time of mixed emotions. The excitement of marrying the love of their life is overshadowed by feelings of self-consciousness and anxiety in knowing that all eyes will be on them.
This feeling of anxiety is especially true for tall brides who have struggled with self-consciousness about their height. Here are some of the best wedding dress ideas for tall brides.
Long and Flowy
If you want to use your height to your advantage and celebrate your body, wearing a long and flowy dress is the way to go! And why not? It is your day girl! Look for dresses that have light fabric and a lot of movement.
If you're tall with a curvier or more athletic frame, dropped waistline style dresses like trumpets or mermaids are a beautiful twist on this look.
Ruffles and Volume
If you don't want the attention to be on your height, add width to your gown. Opt for a princess style dress with a dropped waist that draws the eye horizontally rather than vertically. The more volume on the skirt, the more it will offset your height.
Alternatively, add volume to your dress using accents. Ruffles and tiered skirts have become a hot trend in bridal fashion over the last year. Try on a few Fashion Week inspired pieces to take advantage of this tall-friendly look.
Draw Attention Elsewhere
Another way to draw attention away from your height is to give your guests another focal point. You can do this by accessorizing or choosing different dress styles that draw the eye elsewhere.
For example, wearing a backless dress will naturally draw the eye to your back rather than your height as you walk down the aisle. Adding a pop of color to your dress or an elaborate veil will also give your guests something else to focus on if you feel self-conscious about your height.
The rustic wedding theme is always a good idea – since it is "old fashioned" – you can even find a wedding dress full of lace from your mom's or auntie's closet, modify it to celebrate your body type and go proudly to the new chapter of life. All the themes can be full of natural decors, such as wooden barrels, lace as a table cover, chandeliers, wildflowers, countryside atmosphere, romantic lights, and so on…
At The Gardens of Castle Rock, handcrafted cedar wedding banquet tables and cedar mid-height reception tables are the perfect canvas to create the wedding reception of your dreams. Dress them up for a classic romantic look or go for the minimalist look with vases of single stem flowers. The possibilities are endless.
Avoid Empire Waists
Empire waists work really well for short brides and those who don't feel comfortable in form-fitting gowns. On a tall bride, however, the illusion of length created by this cut can look disproportionate and make your legs look longer than they are.
When shopping, stick to the natural, or dropped waist look. If you like the look of the empire waist dresses, opt for a princess waist or dress it up with a basque or inverted-basque.
Buy Your Shoes First
Don't feel that your height excludes you from wearing heels. If you love wearing heels and can't imagine spending your day in flats, just be sure to buy the shoes before you go dress shopping.
Wedding dresses are made to be altered, and it's easier to remove fabric than it is to add. Thus, most dresses have a lot of extra material tucked into the hem that can be let down.
Bring your shoes with you when trying on dresses and talk to a seamstress before making a purchase. If you plan on buying online, have a seamstress take your measurements with and without your shoes first. Even if there isn't enough fabric, some dress styles are easier to alter than others. An experienced seamstress is a tall bride's best friend.
Stand Tall and Proud
Don't let your height put a damper on your day. You're going to look amazing, no matter what. Embrace your body and walk down the aisle standing tall and proud.
*Feature image by Anthologie