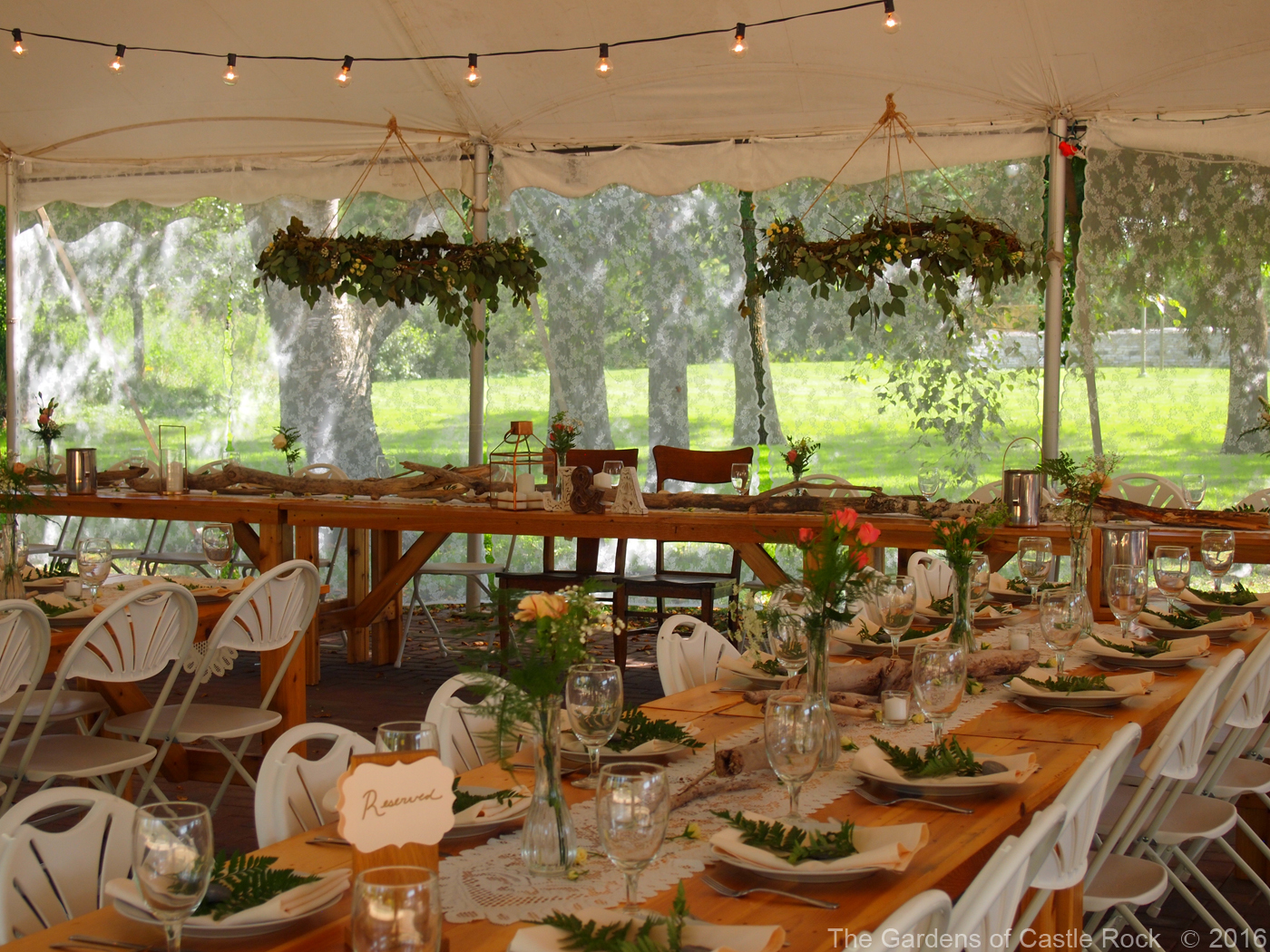 Heads Up! Hanging Flowers at Your Wedding
Heads Up! Hanging Flowers at Your Wedding
Let the beauty rise above it all… Flowers are popping up everywhere!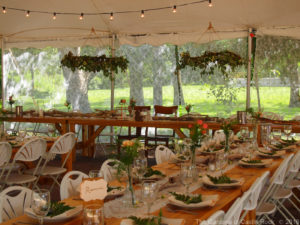 The latest floral design trend explores an unexpected frontier: Look, up above! Not a bird, not a plane, but flowers!
Formerly the domain of lights and lanterns, hanging floral accents are increasingly making dramatic statements at wedding venues. A quick online search reveals hanging floral features ranging from simple, rustic and modest to incredibly lavish and over-the-top. Explore all those gorgeous images and maybe you'll see something perfect for your big day.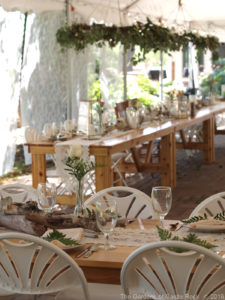 Many iterations on the theme depend on a container. We love those clear glass orbs often used with air plants. Hang by a ribbon or fishing line, and tuck a single rose, peony or orchid in each. Intersperse votive candles in some of them, and give them away to guests at the end of the party. Mason jars wrapped with wire, ribbon or beads can hang above tables holding small bouquets. Clear or colored wine bottles also make pretty vases, and a DIY enthusiast can make dozens of attractive hanging vases from light bulbs.
Pomanders are trending. Echoing the shape of a tissue pompom and named after the fragrant clove-studded orange beloved at Christmas, florists are crafting beautiful monochromatic orbs of tightly packed flowers, or looser spheres exploding with baby's breath. If you've got access to a few hydrangea bushes, you can approximate this look with simple hydrangea crowns dangling above.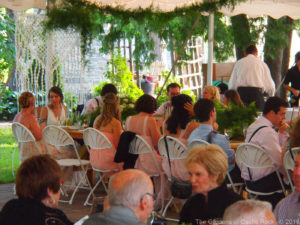 Vertical strands of flowers make a beautiful backdrop for the ceremony, the cake or photos. They can also cascade from the ceiling in a wash of color. Continuous garlands in the tradition of Indian temple decorations and Hawaiian leis are one option, or attach flower heads to clear fishing line at intervals for a transparent floating effect. Using a range of shades of one color enables a lovely ombre effect.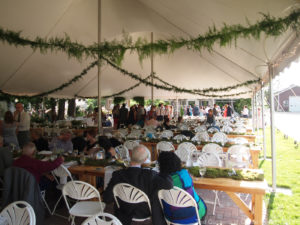 For a simple, elegant, floating look, tulips and certain other long-stemmed flowers can be hung over wires or chandeliers, right where the stem meets a leaf. Add a touch of sparkle with some hanging crystals or lights, or switch to a culinary angle with plump bunches of green and red grapes with ivy.
If you incline toward rustic refined, consider a hanging shelf made of a weathered board. Vases and candles can be secured on top, or flowers can be arranged right on top, cascading over the edges. Bring a woodland effect to the arrangement with driftwood, moss, ferns, leaves and curly willow. Another attractive vintage accessory: the birdcage, oozing and overflowing with flowers.
Lighted garlands of greens or flowers, attached to the structural components of the tent, lend a festive Midsummer's Night Dream effect to the party. Echo the theme with horizontal hanging wreaths of ivy topped with votives.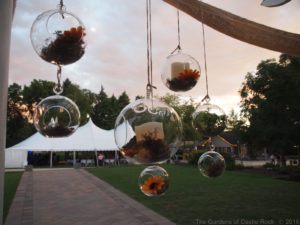 Talented florists can craft large inverted arrangements in virtually any style, from geometrical and compact to lavish tangles of blooms–perhaps to set the head table off from the rest of the room, without obstructing sight lines like a traditional table-top arrangement.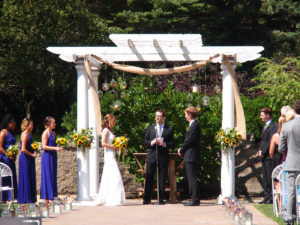 Enhance any of these eye-catching up-above arrangements with other hanging attractions. Edison bulbs, lanterns, crystals, jewels, paper parasols, paper fans and origami cranes can all provide an extra pop of color or texture in your heads-up decor.
Cherish Design… we love when couples get creative with their decor. Especially floral, after all it is The Gardens.   Contact The Gardens it you want to take your wedding experience up a notch!