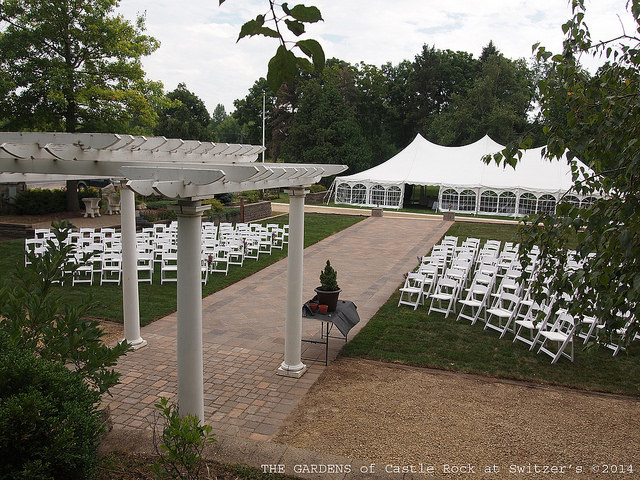 Simplicity Wins! The Benefits of Having the Ceremony and Reception in the Same Place
Wedding planning involves lots of decisions. Just like in real estate, "location, location, and location" is the supreme consideration. Once you've selected your location, a lot of decisions are resolved.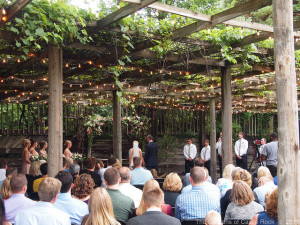 Let's consider the ceremony and the reception: they can be in the same place–or not. Having them in the same place helps simplify so many things making everything less stressful. Ultimately being able to spend more time with family and friends on your special day is the biggest plus for selecting one location. Here are some more benefits.
Decorate once, not twice:
It's simpler and less expensive to bring a cohesive, unified decorative scheme to adjacent or overlapping areas in the same place.
The "schlep" factor:
No matter how much professional or community help you have, there's a lot to schlep on the big day. Multiple outfits, guest books, gifts, make-up, hair accessories: The fewer times you and your friends need to load it in and out, the happier you'll be and the less likely it is that you'll forget something.
Save money:
When you have it all in one location, you'll generally spend less than securing two locations. Especially consider rental items: spending money for chairs or a tent in a second location really adds up. Also factor in transportation costs, especially if you'll be engaging a limousine or carriage.
Less overlap with other parties: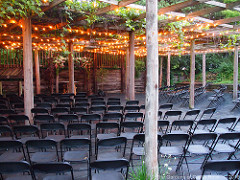 If you're booked for smaller chunks of time at two places, there's a greater chance that you'll be bookended by someone else's party. This can cramp your style and increase the stress factor.
Easier and less expensive to offer some refreshments before the ceremony:
Especially for warm weather weddings or morning weddings, you may offer water, lemonade or coffee to guests while they wait for the action to start. When both parts of your party are at the same place, you'll benefit from the economy of scale.
Makes portrait taking easier:
When the guests and the wedding party don't need to relocate, portrait taking is less rushed and less stressful.
Photographer can get still-life images of reception area more easily:
Beautiful still-life pictures of the reception area are a wonderful way to remember all the energy that went into decorating. Photographers who are not on the run can more easily slip into the reception area before the guests.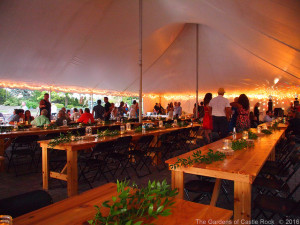 Easier for guests:
Especially for the elderly, out-of-towners and those with kids, it's so much simpler to stay put and settle in.

Fewer places to troubleshoot:
Every location has aspects that work beautifully, and aspects that need to be downplayed. By having the reception and the ceremony in the same place, you can focus more effort on both the highlighting and the downplaying.
Conserve your energy:
While nothing is more fun than your wedding day, all the family time, socializing and running around add up. The less exhausted you are at the end of the day, the more you'll enjoy yourself for the long wedding weekend.