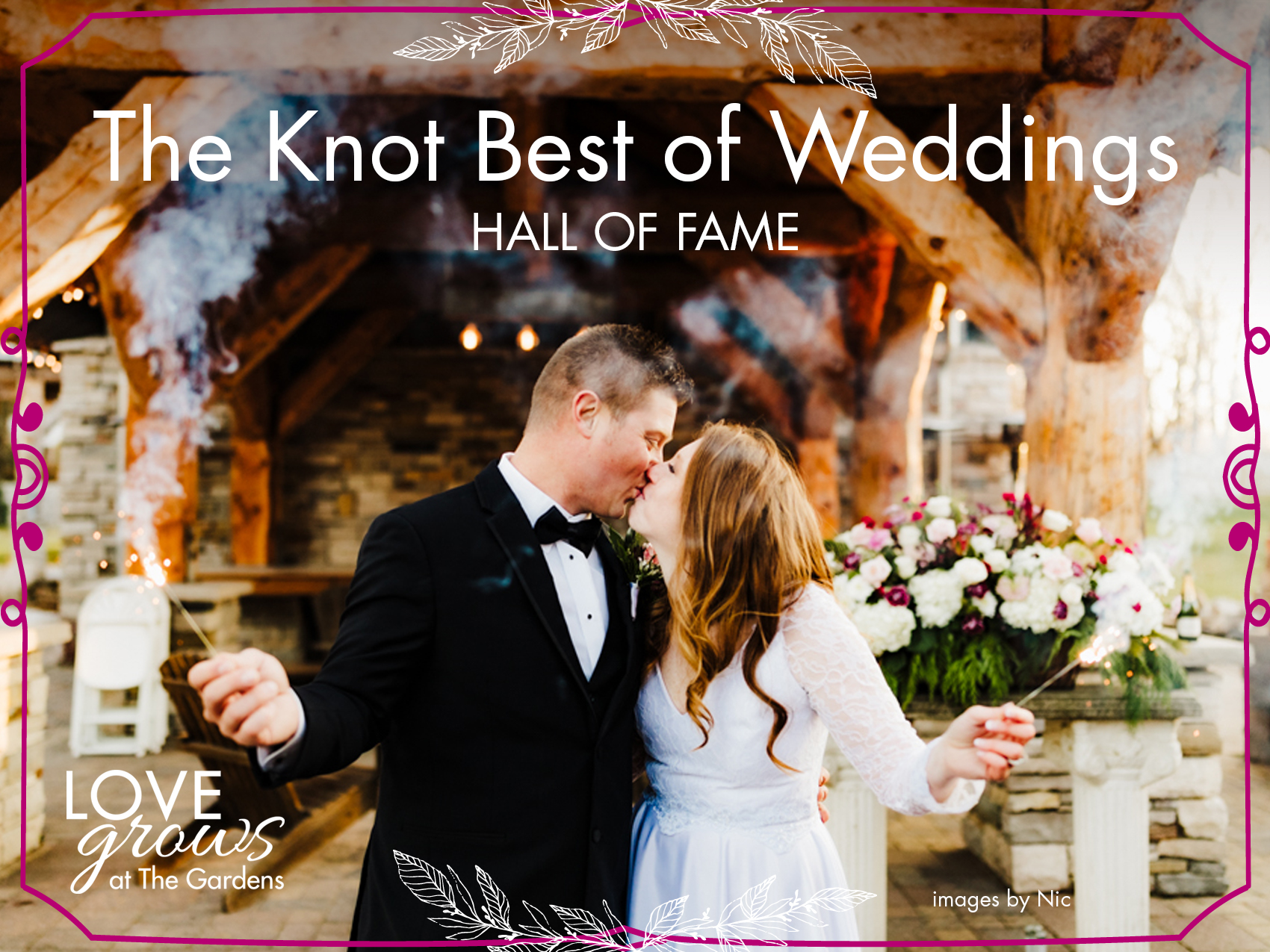 The Knot Best of Weddings – Hall of Fame
The Gardens of Castle Rock recognized as one of the best Minnesota wedding venues by The Knot.
The Gardens of Castle Rock is pleased to announce that we have been inducted into The Knot Best of Weddings Hall of Fame from The Knot, a leading wedding planning and registry brand and app.
Exceptional wedding professionals who have earned four or more of The Knot Best of Weddings awards are inducted into the prestigious The Knot Best of Weddings Hall of Fame. Annual Best of Weddings awards are given to vendors with at least 10 positive reviews and rating on their profile. This year, The Knot Best of Weddings winners represent the top 5% of local wedding vendors listed on The Knot.
From our amazing couples to our dedicated and hardworking staff, this award demonstrates a team effort. We are humbled by this award and grateful every day that we work in an industry surrounded by so much love. We are very thankful for our wonderful couples who take the time to write reviews sharing their wedding day experiences.
The following is a small sample of reviews by of our amazing couples sharing about their experiences at The Gardens of Castle Rock.
Elise & Renato
"The Gardens Of Castle Rock is a phenomenal wedding venue. They were an essential part of our miracle wedding – Planned at record speed between the time we first toured and met with them and the wedding day, about two weeks later #covidwedding. Through their gorgeous site and the assistance they gave us, we truly had a beautiful wedding. Glen's skillful & artistic craftsmanship that has gone into much of the buildings and wooden structures gave it a unique, personal, and beautiful flair. We believe any couple would be fortunate to get married at The Gardens. We're so grateful they're a part of our story." – Elise & Renato
Bridget & Josh
"The Gardens were incredible to work with, especially when trying to figure out how to have a wedding in a pandemic! The venue is beautiful and the people are all incredibly helpful."  – Bridget & Josh
Maria & Leo
"The space itself is stunning! Glenn truly takes pride in the place his family has maintained and improved for so many decades. I loved having ample space for our friends and family to roam and supporting a family owned and operated business was the cherry on top for me and my husband. If you're looking for a place to host a gathering at a venue with flexible catering and liquor options, I'd recommend checking out The Gardens!" – Marie & Leo
Allison & Elliott
"Simply outstanding. The Gardens exceeded all of our expectations – everything went off without a hitch. We absolutely loved the flexibility of the venue and staff. The unique ability to choose your own venue within the site, caterer and all other vendors allows for a personal touch that can't be matched in many other Minneapolis wedding venues. Glenn and the staff were very impressive, constantly working to make the Gardens the best it can truly be." – Allison & Elliott
Julia & Sam
"We couldn't possibly have asked for a better experience than the one we had at The Gardens of Castle Rock. The Gardens made our dreams come to life. Our wedding was magical and I can't count how many people have complimented the venue! Even our vendors were blown away by its beauty and versatility. I especially loved being able to bring in what we wanted and not being confined to preferred caterers. The Gardens really made it possible to design everything about the day to suit our personalities! I feel so lucky we found this venue." – Julia & Sam
Bidisha & Brian
"We were looking for a place that was rustic and rural, yet flexible so we could have a big Indian wedding. This was it, and we are so happy with our experience. Not only is the venue super flexible – we weren't tied to their caterer or bar service, which was key for us – but they went totally above and beyond for us. Our wedding was so beautiful, everyone loved the venue, and we are so happy we chose The Gardens." – Bidisha & Brian
Megan & Phil
"The Gardens of Castle Rock is by far the most beautiful outdoor wedding venue in Minnesota. It's absolutely stunning! Not only are you surrounded by the most gorgeous landscape architecture when you get married at The Gardens, but you're also in the BEST of hands with the owner and his team. It's an incredible place." – Megan & Phil
To see more photos of The Gardens of Castle Rock, visit our website gallery.