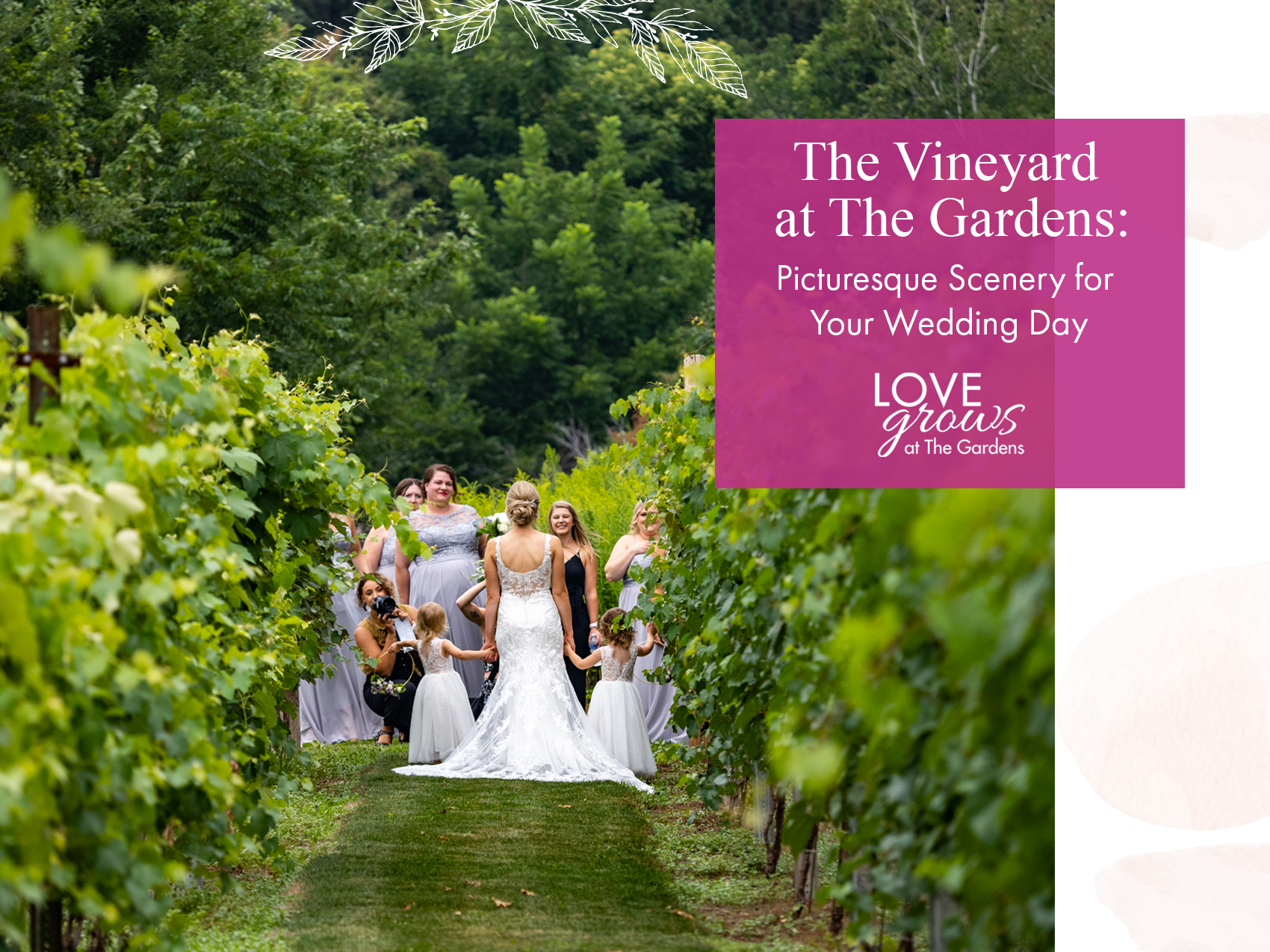 The Vineyard at The Gardens of Castle Rock: Picturesque Scenery for Your Wedding Day
The Garden's Vineyard is the Perfect Setting for First Looks, Private Vows, and Wedding Day Photos.
A wedding day just isn't complete without the romantic vibes of a vineyard. So in 2018 when Vineyard Manager Eric Z. approached Glenn – owner of The Gardens of Castle Rock – about starting a vineyard at The Gardens as a passion project, Glenn didn't hesitate to approve of the venture. Let's just say Eric wanted wine, Glenn wanted picture opportunities. Win, win!
About The Gardens Vineyard
For you wine enthusiasts, you may be interested to know that there are three varieties of grapes that grow in the vineyard. The Petite Pearl and Crimson Pearl are red hybrid grape varieties (developed in Minnesota) and Adalmiina grapes which are a white variety.
These broadleaf vines are naturally hardy for a Minnesota winter, but are not so natural when it comes to growing vertically. A lot of care and consideration has been put into designing the frames and ties so that couples have the picture perfect spot for private vows, first looks, and wedding day photos.
More importantly, you may be wondering if these grapes are used to make wine? You bet. Eric tends to the vines throughout each season monitoring their growth, pollination, and when they're optimal for picking.
After they have been picked, he starts the process of pressing and destemming the fruit, fermentation into alcohol, and bottling the finished liquid.
Eric will be the first to tell you that the process of making the wine is relatively short compared to the clean-up… which seems endless.
Vineyard Views on Your Wedding Day
The vineyard is situated on the walk back to The Wedding in The Woods ceremony location. Since it is on the West side of the venue property, it is private AND boasts a gorgeous view of the sunset. (Hello, Golden Hour!)
So, grab your sweetie, your photographer, and even your bridal party and enjoy the scenic views of the vineyard without the winery costs!