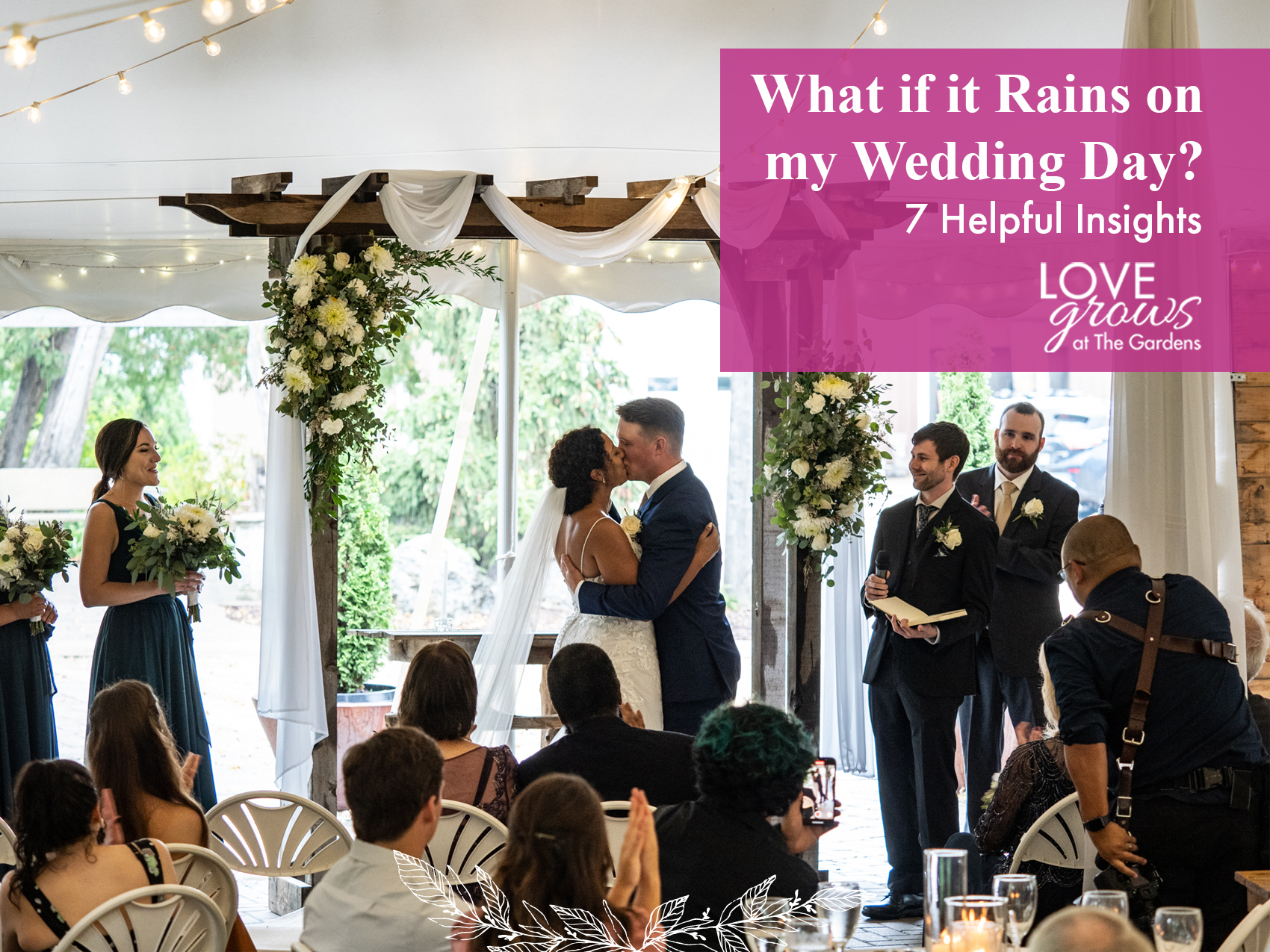 What If It Rains On My Wedding Day? 7 Helpful Insights
The Gardens of Castle Rock Embraces the Rain and We're Here to Help on Your Wedding Day.
As an outdoor wedding venue in Minnesota, The Gardens of Castle Rock is no stranger to precipitation. We have witnessed first hand the fresh smell of the rain, the ambient lighting it provides, the memories it creates… and rainbows! It's hard to take our word for it, especially when rain is not on your wish list…..but, we totally get it! That's why we're here to talk to you about how The Gardens handles rain on your wedding day, so your best day ever really is the Best. Day. Ever.
So, first things first, close that weather app and put the phone down. Refreshing the weather channel like a magic 8 ball won't change the outcome nor will it help calm your nerves. It's okay to mourn a bit if you see some sprinkles in your future, but now it's time to ask yourself this very important question: "Will rain stop you from marrying the love of your life?" We didn't think so. The second most important question: "Will you melt if rain hits you like the Wicked Witch of the West?"  We didn't think so either.  Now let's talk about how The Gardens has you covered!
We're On Your Team!
What does a rainy day wedding ceremony look like here at The Gardens? Great question. Let's dive into that…
The Gardens Set-Up Lead continuously communicates with your professional Day of Coordinator to ensure all of your wishes for the day are implemented including the answer to this question: Outside or Under the Tent?
If you would like to stick to your outdoor wedding ceremony site, The Gardens staff will be there with towels and leaf blowers to dry off the seating right before the start of the ceremony.
If you would like to move your ceremony to the Wedding Reception Tent, here are day-of adjustments that The Gardens staff can do to help (if space allows): Set-up an arbor in the Wedding Reception Tent, slightly adjust tables to create an aisle if need be, and set-up a front row of chairs for immediate family near the arbor. It's important to note that your tables and chairs will already be set for your reception and can not be moved out of the tent for the ceremony. Guests are welcome to sit at their tables during the ceremony.
The Gardens Reception Tent
Our reception tent stays up all season long and is our Plan B. With removable tent sides, we have the ability to strategically enclose certain sections of the tent to protect guests from rain during the summer. (We don't automatically enclose the entire tent otherwise it turns into a true greenhouse! …See what we did there?) When temperatures drop sometime in the fall, the tent sides are put on and stay on so we can heat the tent.  Add in a fully paved floor to keep your guests nice shoes out of the mud, it's a great option if you choose to get married under the canopy of the tent!
Ground Cover

Speaking of pavers… The Gardens of Castle Rock has almost 15,000 square feet of pavers to avoid mud on a rainy day; Unless, of course, you're young at heart enough to seek out the mud. You shouldn't have to give up your favorite pair of heels for rain boots (unless you love that idea), and our walk ways will give you plenty of opportunity to keep your shoes mud free. The pavers stretch from both dressing rooms, throughout the reception patio area, and under our 40'x100′ Reception Tent. The Lath House ceremony location also has pavers throughout the whole space.
Flexible in Ceremony Schedule
The first concept to remember is that a forecast of rain doesn't mean 24 hours of rain. If you want to wait on starting the ceremony for 20 minutes to see if the rain passes by, we're game! You make the decision on your ceremony time. Your Gardens Set-Up Lead will be working with your Day of Coordinator to work out a new ceremony time, if necessary, and any day-of location changes (if you decide to go from outside to under the tent) so that you can sit back and relax.
Covered Places for Pictures
There are several outdoor covered areas throughout The Gardens of Castle Rock for you to do a first look, snuggle in with your sweetie, or cheery wildly with your bridal party. You chose an outdoor wedding venue for a reason… Let's get you outside for some truly remarkable photos to cherish for a lifetime.
Indoor Arbor
In the case of your wedding ceremony being moved into the Wedding Reception Tent, The Garden's Team will set up an indoor arbor for your ceremony décor. Any ceremony site day-of adjustments (drying ceremony seating outside, adjusting the aisle, setting up the arbor) made due to weather does not result in extra fees.
Heating for the Cool Months
A refreshing rain in June is a whole different ballgame than a north wind rain in September. Keep in mind, Mother Nature tends to dictate when and where tent sides are put on and when the heat gets turned on. During the summer months, a little rain means we can let the beautiful views of the gardens in by putting only one or two tent sides on. During the fall when rain tends to be a little chillier, all the tent sides are attached and the heat is turned on.
Embrace The Day
After reading this blog, it's apparent that we're here for you and we've got great features for a rainy day… but this last "insight" comes from you. While we know it is MUCH easier said than done, the only thing left to do is really embrace the day, rain and all. It is so much easier on your mind to just go with what the day brings. So grab your umbrella and make some memories!
Want some more helpful "rain on my wedding day" tips and tricks? Check out: Helpful Tips for your Outdoor Wedding: Hope for the Best but Plan for Rain
**Photos not credited to a professional photographer are by The Gardens of Castle Rock Staff**