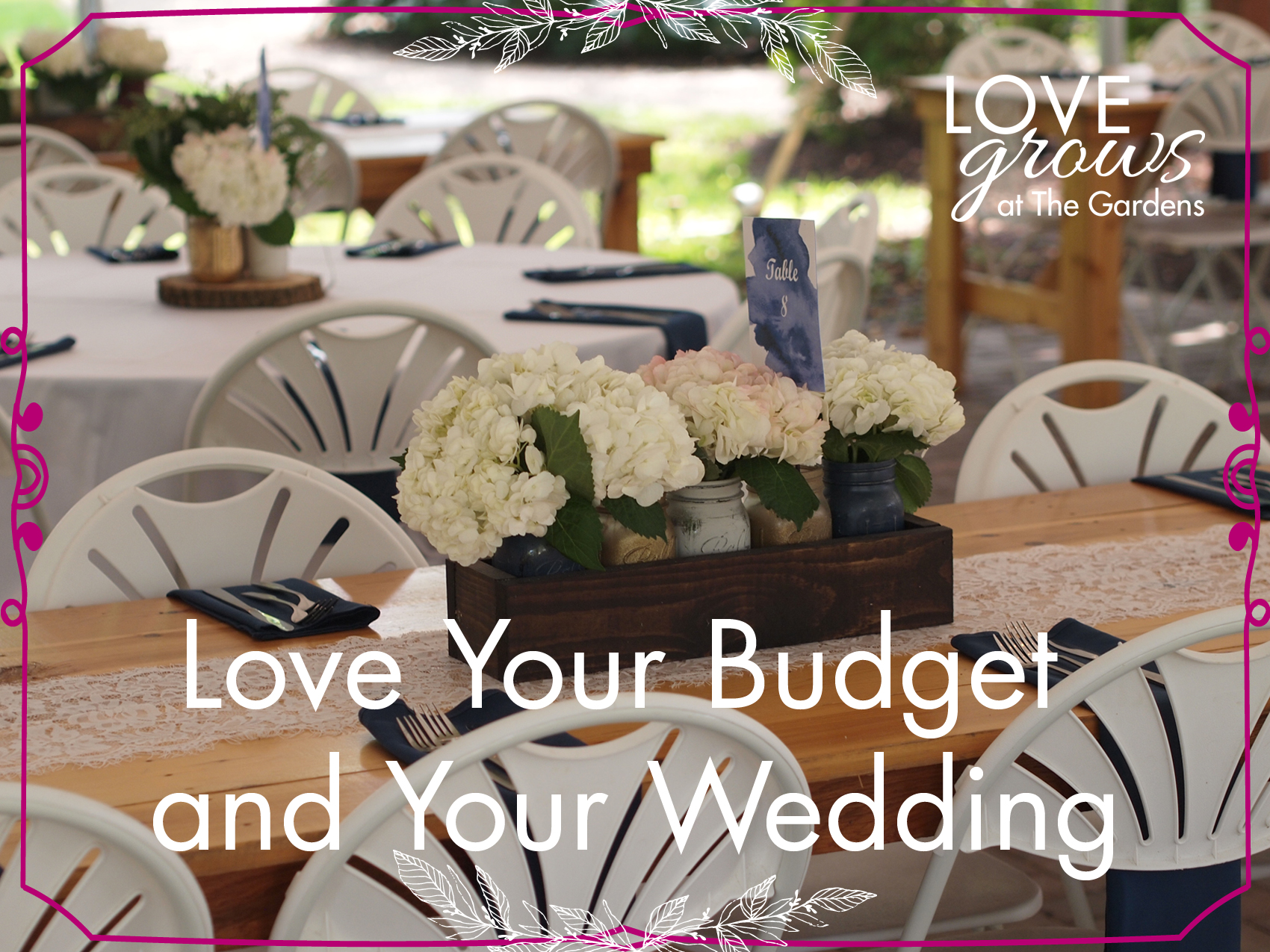 Love Your Budget and Your Wedding!
They say you can't have your cake and eat it too. But what if that isn't entirely true.
What if you can have the wedding of your dreams while operating within your budget? Here are 10 hot tips for a budget-friendly wedding that won't break the bank!
1 – Start with a budget and prioritize
Set your total budget right out of the chute. Then with your partner, determine your top three splurges. Break it down and set a cap for each item on your list. Then communicate your budget to each of the vendors involved in your big day. Refuse to look at dresses, cakes, venues…that are outside of it.
2 – Be flexible with dates
If you're open to an off-peak and/or off-season wedding date, you're much more likely to incur a cost savings. For example, a venue rental for a Friday or Sunday wedding tends to be more affordable than a traditional Saturday wedding. Moreover, a January wedding venue rental will be more cost-effective than a June wedding venue rental. Take advantage of the basic laws of supply and demand to secure the venue you want at a price you can afford.
3 – Choose seasonal flowers
It probably goes without saying that in-season blooms are much more affordable than their off-season counterparts. Have a friend or relative with an eye for floral arrangement? Consider picking some wildflowers or picking some blooms from your grandma's flower garden. With permission, of course!
4 – Opt for more greenery and less blooms
In the same vein, choosing to go heavier on the greens and adding a few blooms here and there for a splash of color is much more economical than a bouquet of blooms with a splash of greens. Greens offer a wide-variety of shades and textures and can be used to create lush, full bouquets and centerpieces.
5 – Narrow down your guest list
One of the best ways to reduce cost is to whittle down the guest list. While some couples are hesitant to do so, it is not considered poor etiquette to not include a "plus guest" invite for single friends or to throw an adult-only event. With the average cost per guest between $120-$150, this is a great way to throw the celebration you want while staying within your budget.
6 – Capitalize on free seasonal décor
This is particularly easy to do if you're planning your wedding at a public venue leading up to the holidays when Christmas trees, lights and other seasonal decor abound!
7 – Explore location options
Instead of opting for a traditional setting, think outside the box and consider a park with a pavilion, a historical landmark in your town or even your own backyard. While some of these options seem more affordable at first, however, keep in mind that when you "create your own venue" you may incur additional costs such as lighting and sound, generator rental, portable bathrooms, etc.
8 – Print your own Save-the-Date cards and invitations
This is a fun and easy way to add a personal touch to your big day. Either design and order them at online discount stores or buy some high-quality cardstock and print them at home.  Check here for more invitation ideas.
9 – Rent or borrow a dress
Wedding dresses can be incredibly spendy. Consider renting a dress for a fraction of the cost or borrowing your mom or grandma's dress. This is a great way to cut costs while crossing "something old" or "something borrowed" off your list!
10 – Negotiate with the photographer
There are an array of options when it comes to wedding photos – don't hesitate to investigate them! Would you prefer to have all your photos put onto a CD or USB so you can print them yourself? Or how about spending the money upfront to purchase the rights to your photos so you, your family and your friends can order as many as you want at a later time? Also, ask yourself what span of time you want your photographer available on your wedding day. Maybe it's important to you to have your photographer available before and during the ceremony and you ask a friend to snap candids at the reception. The more time a photographer is onsite, the greater the cost. The more you can offset that, the greater the savings.
At The Gardens, you choose your vendors so have more control over costs! Interested in booking The Gardens for the backdrop to your big day? If you would like to learn more about us, we can be reached at 651.264.9510 or you can email us at info@thegardensofcastlerock.com