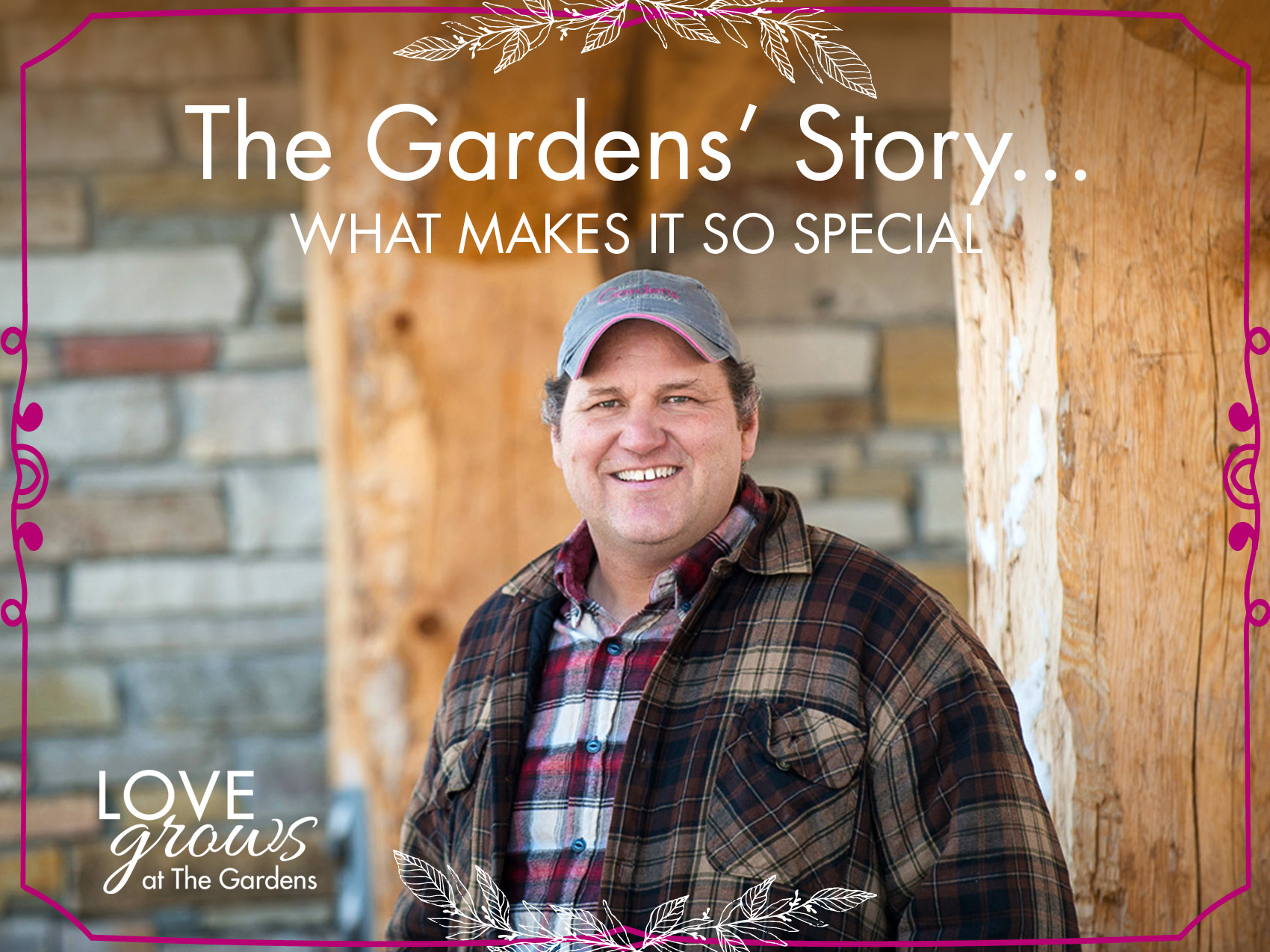 The Gardens' Story…..what makes it so special
A one-of-a-kind story where passion and purpose align to create an amazing outdoor wedding venue.
Born into a family with a strong appreciation for the natural environment, Glenn Switzer, the owner of The Gardens of Castle Rock, has been on a lifelong journey to align his passions with his purpose to create spaces where authentic craftsmanship and the natural environment are at the very center.
Having spent most of his life on the property that is now The Gardens of Castle Rock, Glenn can recall the origins of almost every tree, the construction or destruction of each building and countless stories of how three generations of Switzers have helped people incorporate the natural environment into their lives. Look closely into the great Scotch pine that shades the entrance to the Lath House and you will spot remnants of Glenn's first tree fort.
Close to a century ago, William Switzer, affectingly known as Grandpa Switzer, began working at a nursery business located on the property. After becoming the proprietor of the nursery, Grandpa Switzer wanted a name
that reflected the location of the nursery. He chose to name the business Castle Rock Nursery after the township it was located in and the nearby St. Peter sandstone formation that also bears its name. Spoiler alert…. Little remains of the Castle Rock sandstone formation today.
Glenn's father, Gary Switzer, worked as a Landscape Architect for the National Park Service designing features at some of the nation's most impressive natural parks in the west that can still been seen today.
When Glenn was a toddler, his family left Nevada to return to Minnesota to join Grandpa Switzer in the family business. Bringing his extensive landscape experience into the business called for an updated business name, thus Switzer's Nursery & Landscaping was born.
At a young age, Glenn joined his family working in the nursery weeding and watering plants. Self-described as a "pretty good kid", Glenn can attest that he didn't get in trouble much for misbehaving, but found himself in deep water many times for taking apart tools and simple machines. Glenn shared, "Although I wanted to understand how the tools and machines worked, what I really wanted to do was find a more efficient way for them to work. My dad and grandpa didn't see it the same way."
The close relationship Glenn shared with his father and grandfather, who had so much experience in designing and creating beautiful outdoor environments, created a deep appreciation for the natural world and the satisfaction of working with his hands.
Ever the adventurous entrepreneur. Glenn's first dabble into business at the age of eight was the creation of Switzer's Kids Nursery where he proudly filled his little red wagon full of .25 cent starter trees and proudly camped out under the great Scotch pine. 
Through his teenage years, Glenn continued to work at the family's business as he balanced school with his extracurricular activities (think…. tuba player, 4-H, Future Farmers of America and Boy Scouts).After high school, Glenn attended Inver Hills Community College in hopes of pursuing a political science degree all the while continuing to work at the family's nursery and landscaping business. But Glenn's path had other plans. While serving on the FFA State Officers Team at a FFA convention held at the University of Minnesota, Glenn stumbled upon an open house for the University's Landscape Architecture Program. He was hooked. He promptly left Inver Hills Community College and enrolled at the University of Minnesota. At the U, Glenn discovered his passion as he studied landscape architecture and environmental design with a minor in art. Even taking him to China for three months to study garden design and architecture. Today, you'll find him organizing his vacations and day trips around gardens or architectural tours to discover new techniques and concepts.
During the same time…..think early 20's, Glenn began working as a DJ for Ultimate Entertainment. Having an appreciation for music and its ability to set the mood, this was a perfect fit for Glenn. During 14 years behind the turntables and hundreds of wedding receptions under his belt, Glenn developed a love for entertaining and making people happy. The opportunity arose to buy the company and Glenn jumped on it. Glenn shares "Music is so powerful. It has an amazing ability to enhance the party. It gets people out of their seats and on the dance floor. Some who haven't danced in years jump up and say, 'This is my song, I've got to dance!' "
Glenn spent his Monday-Friday workings 60 plus hours doing landscape design and construction at the family business and his weekends DJing. Sleep has never been a high priority for Glenn.
You may wonder……what does someone whose career revolves around working outdoors when the weather is mild do in the blustery Minnesota winters. Ever the outdoor lover, Glenn enjoys downhill skiing, even working as a ski instructor for 25 years. Come each February, you'll find Glenn and his wife, Michelle, (also a former ski instructor…. that's how they met) traveling out west to enjoy the fresh mountain powder.
Glenn has also had plenty of civic involvement (that's the interest in political science) serving as the mayor of Dundas for the past 16 years and an advocate for the Mill Town State Trail.
In 2006, Switzer's Nursery transitioned out of retail sales to solely focus on landscape designs and construction, thus once again adding another word to the business name……Switzer's Nursery & Landscape Design.  Glenn has accumulated over 30+ years of experience in landscape design and construction. While his portfolio is vast, his largest enjoyment in design has come from creating entertainment spaces with seamless indoors to outdoors transitions. He is the recipient of numerous landscaping and design awards with work featured in several Midwest magazines.
In 2012, a friend of Glenn's was looking for a place to get married outside. Half-jokingly, Glenn said, "You can get married here!" Glenn's friend didn't waste a second and took him up on the offer choosing to get married in the Lath House (before it was even the Lath House). The wedding went off without a hitch…. except the hitching of the bride and groom that is.
Intrigued by the possibility of branching into the wedding venue business, Glenn wrote a business plan with the projections of booking 5-10 weddings each year, in addition to his landscape design and construction work. Over the next four years, the number of weddings doubled each year.
With the opening of The Gardens of Castle Rock, Glenn's passion and purpose came into alignment.
Glenn's formal background in landscape design and construction, understanding the flow of parties as a DJ and his genuine love of creating spaces in which people can relax and celebrate, makes The Gardens a culmination of Glenn's passions and purpose. "I feel like I'm doing what I'm supposed to be doing." shares Glenn.
Glenn's vision for The Gardens is to create an amazing place where couples can gather with their friends and family in a safe and relaxed environment to share their values and love. That's exactly why The Gardens is so open on everything. "It's your wedding day it's not about us. You are able to design a day that reflects who you are as a couple." said Glenn
Glenn continues to do some landscape design and construction for long-term clients, but his focus is designing new features for The Gardens and handcrafting them to create the space for the experiences at The Gardens. Glenn's true passion is working with his hands. For every building or garden feature Glenn designs, he incorporates traditional building techniques and best practices.  One of the first features of Glenn's design was the natural stone fireplace. Demonstrated by the hand hewed timbers of the Garden Pavilion and the hand split stones of the Gardens Suite. There are no shortcuts and absolutely nothing faux at The Gardens. Everything reflects true honest craftsmanship. Go ahead, touch it, it's 100% real!
Curious on how he does it all? You're in luck as Glenn chronicles most of the projects he designs and constructs at The Gardens on his YouTube channel.
While couples and guests comment on the beauty of The Garden's space, what really makes the space special is the people who gather in it. "Designing and constructing spaces that allow guests to be relaxed and comfortable is the ultimate goal of my work." shares Glenn.
Feature Photo Credit: Anthologie
All other photos courtesy of The Gardens of Castle Rock and Glenn Switzer