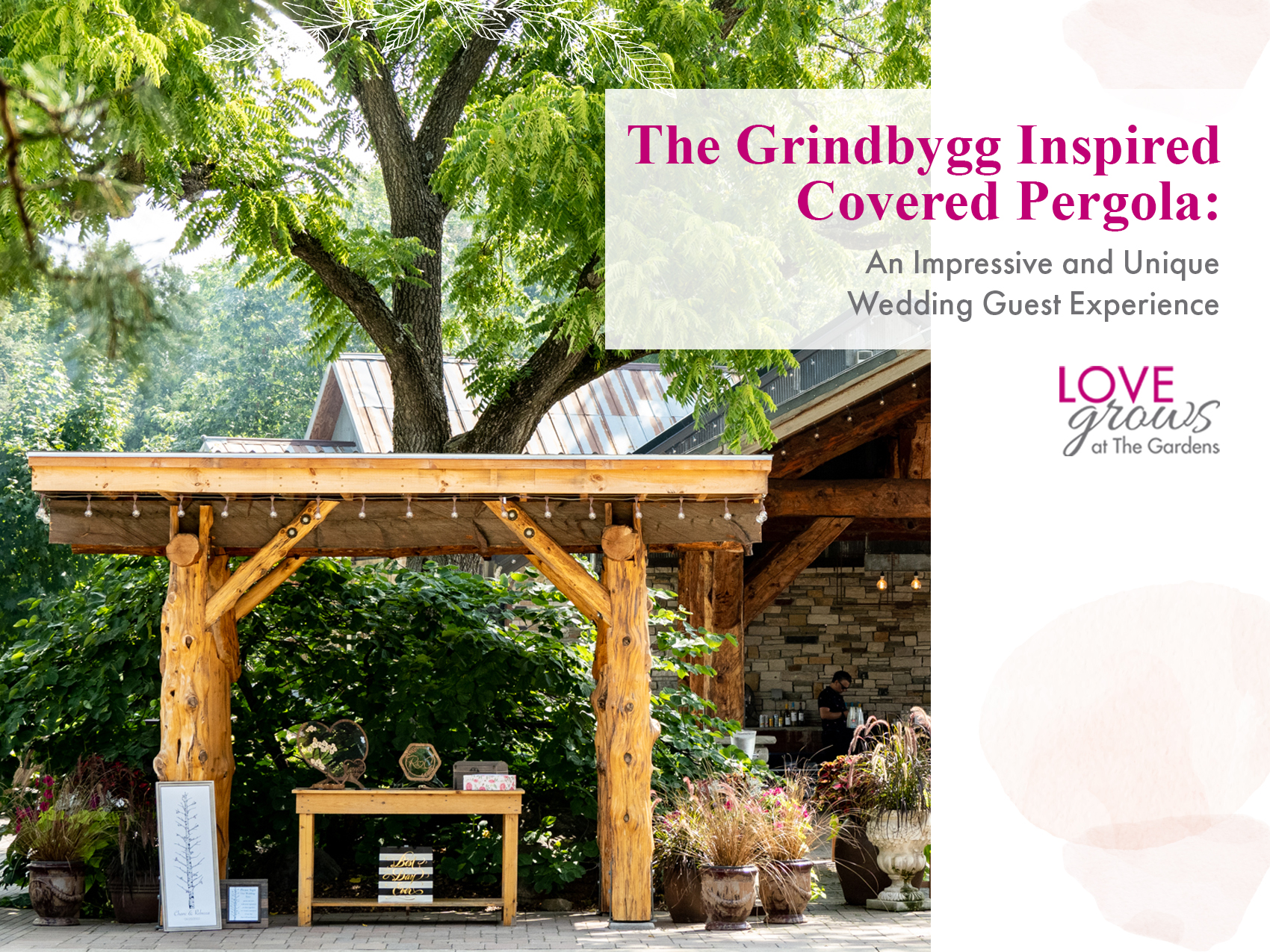 The Grindbygg Inspired Covered Pergola: An Impressive & Unique Wedding Guest Experience
This hand-crafted, modern rustic pergola adds industrial charm and functionality to your outdoor wedding experience.
I bet the first question you're asking yourself is, "What is a Grindbygg?" We're glad you asked! Grindbygg is a traditional post construction style originating in Norway between the 1500's through the 1800's. The idea to build a Grindbygg inspired covered pergola came from a timber frame installation workshop Glenn attended at North House Folk School in Grand Marais, MN.
Glenn considers the structure to be inspired because instead of using the typical Grindbygg style of wood pegs he used large, galvanized lag bolts as the fasteners. Positioned near the entrance of the wedding reception patio, the four large cedar log posts were salvaged from a local tree removal company, while the rafters were salvaged from white pine logs and milled onsite. What's most notable are the two large wall plates that Glenn was able to salvage from a 60-year-old tree his grandfather had planted. The repurposing of trees into structures has always been important to Glenn and to the legacy of The Gardens.
The Grindbygg inspired covered pergola is a beautiful structure and one of ten wood structures, like the Garden Pavilion, located throughout the venue.
While the material and the building process of the Grindbygg inspired pergola is interesting, it's functionality as a one stop shop for couples to display their guestbook and gifts/cards that's important. Not to mention, its covered roof provides protection from the sun's rays and sometimes even a few stray raindrops for the items displayed underneath on a Mid-Height Table.
And let's not forget the most important fact! The Grindbygg inspired covered pergola makes an amazing backdrop for photos!
If you're interested in learning more about the construction process of the Grindbygg inspired covered pergola, check out the YouTube series.