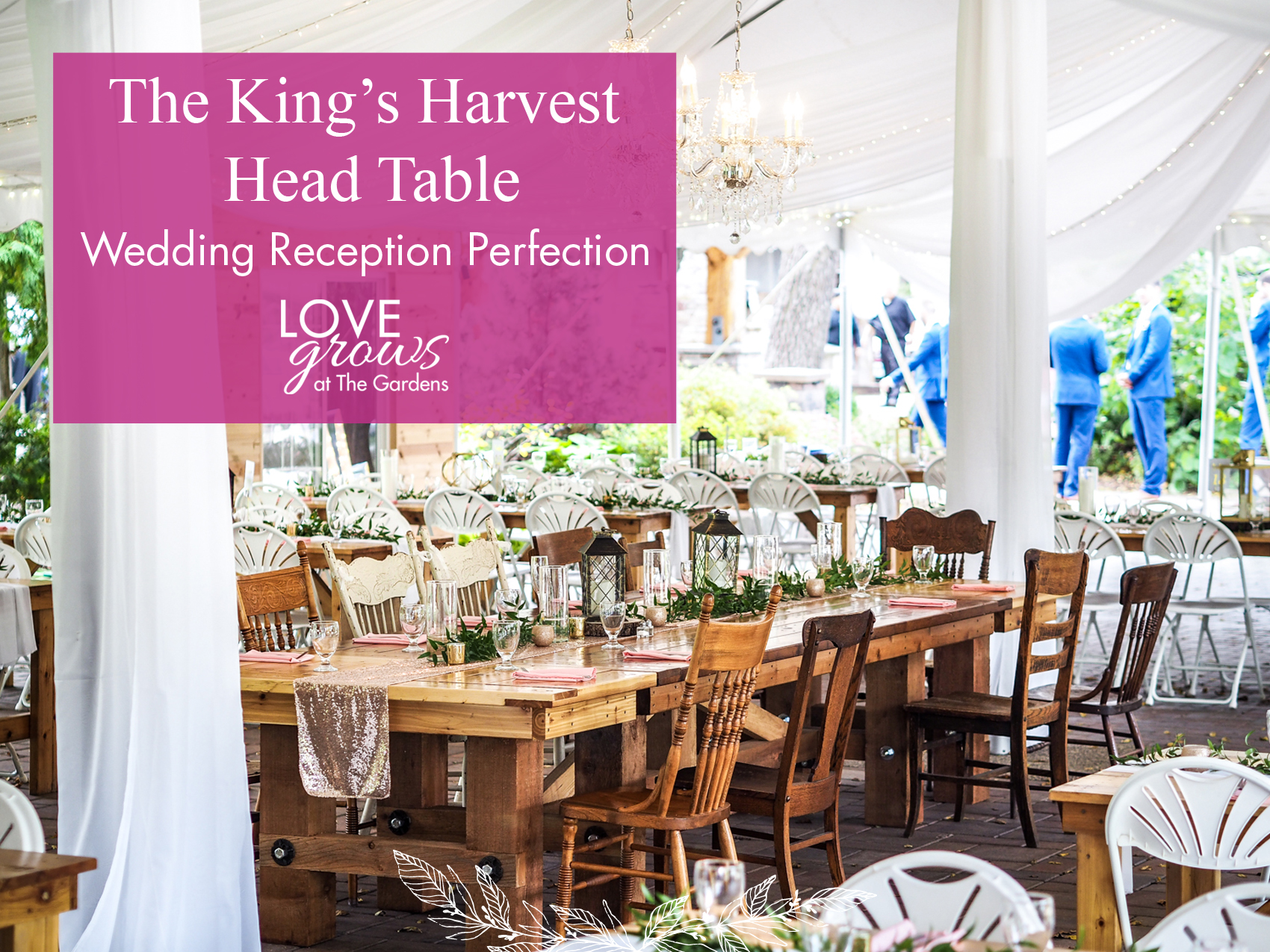 The King's Harvest Head Table ~ Wedding Reception Perfection
The centerpiece of the reception space, the King's Harvest Head Table creates an ideal space to design an impressive tablescape.
After your ceremony site décor, your head table makes the biggest décor statement at your wedding….easily becoming the centerpiece of the reception as all eyes are trained on the newly married couple.
When it comes to your head table, The Gardens of Castle Rock has multiple head table options allowing you to create your dream head table and tablescape. From the traditional head table with the wedding party seated on one side to the intimate sweetheart table, the options for creating your ideal head table are endless.
If you are looking to have the entire wedding party seated around one table, the King's Harvest Head Table is the perfect option! Typically situated in the center of the reception space with the couple in the middle of the table, the King's Harvest Head Table easily becomes the showpiece of the reception space.
Designed and built by the team at The Workshop at The Gardens, the King's Harvest Head Table is crafted out of western red cedar similar to the Gardens Cedar Wedding Banquet Tables and the Garden Cedar Wedding Mid-Height Tables.  The versatility and simple beauty of western red cedar makes it a favorite of The Gardens.
To give the table a rustic appeal, 6' x 6' timbers were used on the bottom while smooth cedar boards were used for the table's surface.  Traditional timber frame techniques and joinery were employed to create the table's formidable base while bridge washers and ¾" galvanized machine bolts were utilized to stabilize the table's legs.  There's no chance this table will blow over in a strong wind!  Once assembled the table was covered with a clear coat of polyurethane to pull out the natural grain of the western red cedar.
One of the most impressive things about the King's Harvest Head Table is its 50" width creating an amazing amount of real estate to design the most memorable tablespace. The table is also very functional with the ability to configure into four different lengths to accommodate up to 22 people (see chart below).
The King's Harvest Head Table is part of the Gardens Originals collection of rental items. To find out how you can incorporate this gorgeous table into your wedding reception, please contact a Gardens Representative at 651-264-9510 or info@thegardensofcastlerock.com.