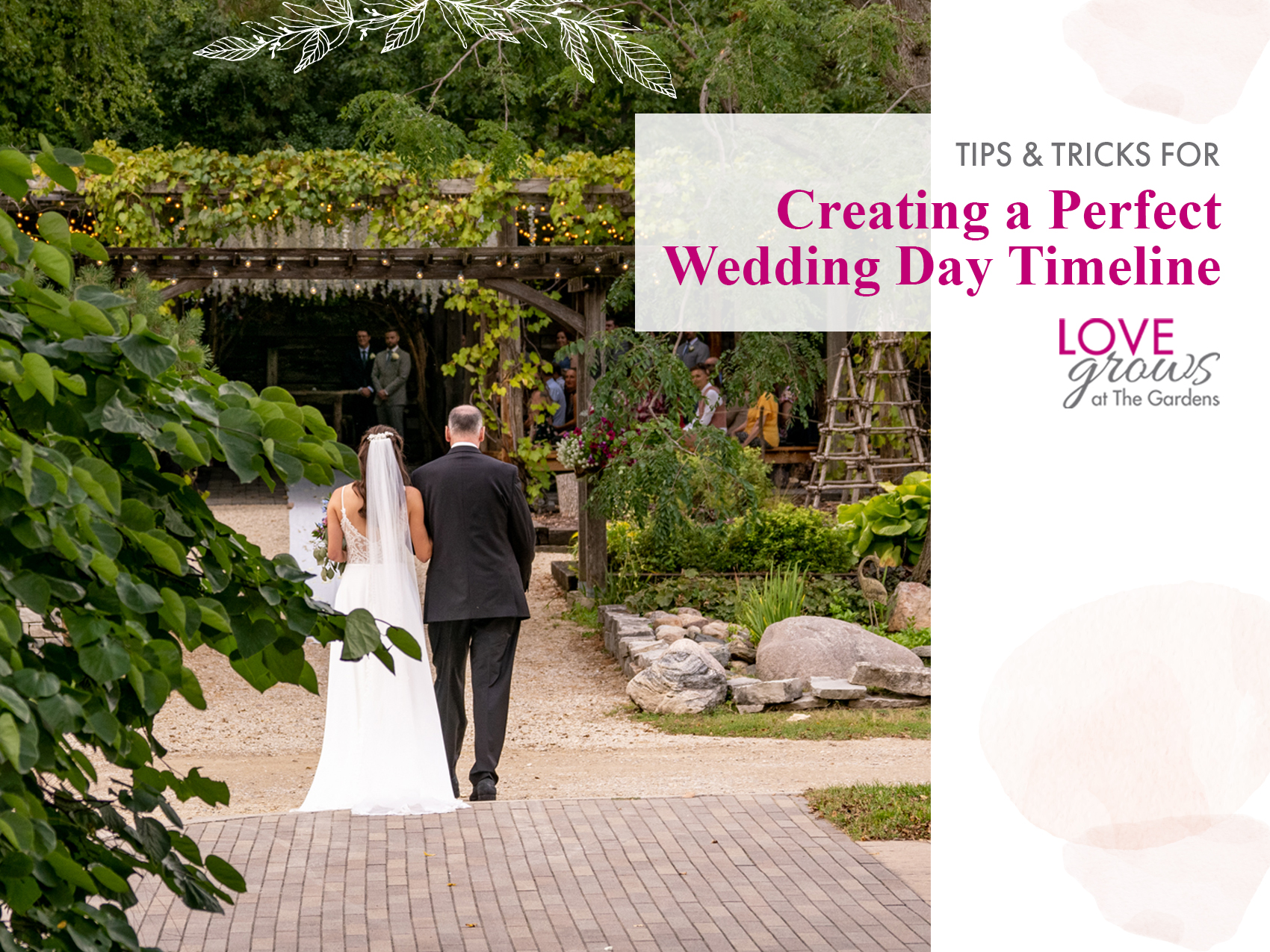 Tips & Tricks for Creating a Perfect Wedding Day Timeline
Spending time creating a wedding day timeline will ensure a smooth & stress-free wedding day for you, your sweetheart & all your guests.
Hey there! If you're reading this, we're gonna go out on a limb and assume that you're getting married – so congratulations! While weddings are incredibly fun and exciting, planning your own wedding can be stressful, and often feels like a full-time job. A wedding is one day made up of approximately 674 tiny, tiny details that come together to make your dream day – but it's not always easy to get all of those details neatly lined up. One of the best ways to organize all the moving parts and calm your nerves on the big day is to create a wedding day timeline. A wedding day timeline is a one-stop-shop document that lays out the order of events, logistical information, arrival times, and any other details relevant to help ensure a day as smooth as the buttercream on your cake. And even if you encounter some slight turbulence on the way to the altar, a day-of timeline will give you a solid foundation to help you stay on track, and before you know it you'll be dancing the night away!
Preparing for Your Timeline
Before we jump in, let's talk about a few key things to keep in mind as you start to develop your timeline. To begin, it's important to consider both the date and location of your your wedding, from a logistical point of view. Whether your day-of timeline starts at 8am or 2pm, it's important to get there on time. Will you need to travel more than an hour to reach your destination? Think about booking a hotel or Airbnb closer to your venue to ease worries about arriving on time. Additionally, take a moment to look at both the time of month and time of year of your wedding date. Getting married on or near a holiday weekend, or on a Friday when everyone and their brother is heading to the family cabin? You might not be the only ones on the road. It's not a bad idea to budget a little extra time, both for yourself, your party, vendors, and guests – to help ward off any time crunches.
Next, this is your day – no one else's! While you may feel pressure to conform to family traditions or what a "typical" wedding looks like, take this as your sign to throw out anything that doesn't spark joy for you (you can Marie Kondo anything, including your wedding!). Your wedding day is about celebrating you and your love, so plan accordingly. Want to get married in a bright pink gown and walk down the aisle to your favorite Tom Petty song? Rock on! Want to forgo a cocktail hour and have your guests shuck their own oysters for an appetizer? Go for it! Want to pass on a plated buffet to order takeout from the place you went to on your first date? By all means! Your wedding can be as unique as you are, and don't let anyone tell you otherwise.
Our last (and perhaps most important) suggestion – consider hiring a professional Day-of Coordinator (DOC). On your wedding day, there's no one better to have in your corner than a DOC. Wedding planning is like a relay race. You've been running from the beginning, bringing your vison to life with the help of Pinterest and sheer willpower. You researched venues, contacted caterers, and pored over the guest list. In short, you've been wearing 20 different hats as you've prepared and planned for your day. But on your wedding day, there's only one hat that you should be wearing – getting married to the love of your life. Your day should be as enjoyable and fun as possible for you, and you shouldn't have to spend it worrying about what time vendors are arriving, directing guests, and touching up décor. DOCs are MVPs – you've been running for the first three legs of the race, and your DOC is the anchor who brings it home. Let them take care of all the day-of details, coordination, and keeping track of all the moving parts…your only job should be getting married! Need more convincing that Day-of Coordinators are worth their weight in gold, find out from actually Day-of Coordinators why they are essential to making your day smooth and stress-free.
Bright and Early
There are two main factors that influence the start to your wedding day. To begin with, it's important to know what time your venue opens and what time the ceremony and reception spaces become available to decorate. Here at The Gardens, we open our gate at 8:00 am sharp for couples to come in and start getting ready in The Gardens Suite & Gardens Cottage. Our Wedding Reception Tent is ready for you to decorate by 9:30 am, and the ceremony site is usually set by 11:00 am. Coordinating with your venue to confirm both when they open and when set-up will be complete helps you plan not only what time you and your party arrive, but also what time your vendors should plan to get there. The second variable to consider is your ceremony time. If you're planning to tie the knot late morning or early afternoon, it makes sense to arrive when the venue opens or shortly after. However, if you're ceremony isn't until late afternoon or early evening, you have more flexibility and can arrive a bit later in the day.
Another element to keep in mind when structuring the morning of your big day is to budget an adequate amount of time for getting ready. If you have a professional hairstylist or make-up artist, it's likely that you will have done a test run prior to the wedding day. In addition to helping you create and tweak your look for the wedding, it also gives you a ballpark of how long it will take to get dolled up on the day of. And don't forget – the wedding party will also need time to get ready, regardless of if they are doing their own hair and make-up or if a professional is stepping in.
Time for Photos
With everyone glammed up, there's only one thing to do – take some pictures! Photos today will be cherished memories tomorrow, so be sure to budget ample time to get all of the pictures that you and your partner would like. Remember that the photos taken aren't limited to only you, your beloved, and your wedding party – you can have first looks with friends and family members too, or even take advantage of everyone being dressed up to snap a few family photos. But of course, some of the best photos from your day will be candids, taken when you're lost in the moment, celebrating your love. So take time for the little things, and be authentically you as embark on one of the most important days of your life.
It's Showtime!
As guests arrive, it's almost time for the ceremony! If you have a guest count over 150, we recommend the use of a shuttle service for a few reasons. Not only does it help keep down the congestion level in the parking lot, but it also provides a safe and sober ride back to the hotel for your guests. It also takes away any stress your guests might have about finding their way to the wedding, as most of them likely will have never driven to your venue. Additionally, having shuttles run at set times helps guests plan their arrival and departure, and gives them the flexibility of having options without having to drive themselves. But for those guests who do drive themselves – we encourage you to think about lateness. We all have that one friend or family member who is just never on time…and few things are more disruptive to a ceremony than a guest coming in late. If you have people on your guest list who are always running behind, it might be worth having a conversation with them explaining how important it is for them to adhere to your timeline. Here at The Gardens, we actually close and lock our entrance gate just prior to ceremonies, to make sure that there aren't any tardy interruptions.
As guests find their way around the venue, signs are a great way to help direct them and offer insight into the order of events. It's also a good idea to check in with your vendors to coordinate what time they should plan to arrive, and also to ask them if they have worked at your venue before. If a vendor is new to your chosen venue, make sure you coordinate with your Day-of Coordinator or venue's staff to make sure that someone will be on hand to welcome and guide vendors as they arrive. This is a great example of the importance of delegating responsibilities to someone other than you or your partner – once you have your timeline in hand, pass it off to your Day-of Coordinator or designated point person for your wedding day. Not only will you not have to worry about making sure catering knows where they're going, you'll be able to be more present on your day, which is the best gift to give yourself on your big day.
Depending on your venue, it's not always possible to do a rehearsal of the ceremony prior to the wedding day. Rehearsals are optional, but should you want to block out time to do a dry run of the ceremony, make sure your wedding party is aware of this so that everyone will be there at the appropriate time. Even if you don't have an entire rehearsal, it's still a good idea to make sure that everyone involved knows where (and at what time!) they are lining up before the ceremony, where they will stand during the ceremony, and how they will exit after the ceremony is complete. Additionally, if you have young children in your party, make sure that there is a designated person seated in the front row for them to sit with when they make it to the end of the aisle. With these things in mind, your ceremony should go off without a hitch!
The Afterparty
You made it! Now it's time to celebrate. All of the stress that came with planning your wedding has paid off – and now you get to celebrate with your nearest and dearest. But before you get the party started, don't forget to take a moment to sign your marriage license! Many couples like to take a little bit of time right after the ceremony to be alone together, and soak in the reality of being married. Don't feel like you need to be with your guests from the moment they arrive; it's absolutely okay to take a few minutes by yourself or with your partner to regroup and decompress.
Now let's take a moment to talk guests. A happy guest is a guest who always has something to do (sit at the ceremony, drink cocktails and mingle, play yard games, etc.), and bonus points if it involves eating or drinking. A bored guest is a cranky guest, and no one wants that energy at their wedding. So when planning your day, especially after the ceremony, make sure that there aren't large blocks of time where guests will be waiting around unattended – your guests will thank you! Another pro tip regarding guests comes in the form of having timely shuttle bus runs at the end of the night. Your venue will likely have a set time for last call at the bar. Time your last shuttle to run just after last call. A tipsy guest is not a guest who should be helping take down decorations and move tables – a tipsy guest is a guest who should go back to their hotel. Plan accordingly so everyone can have a good night!
Final Thoughts
While planning your wedding is undoubtedly a long, sometimes stressful journey, with careful consideration of details and a solid support system, you'll be having the celebration of a lifetime before you know it! Remember that it's your day, and that every part of your wedding should be a reflection of you and your love. Your wedding will be a perfect wedding, because it's yours. And when in doubt – get a Day-of Coordinator! Now you're on your way, and with a timeline in hand you're headed towards the day of your dreams. Congratulations, and we hope you have a wonderful wedding 💗