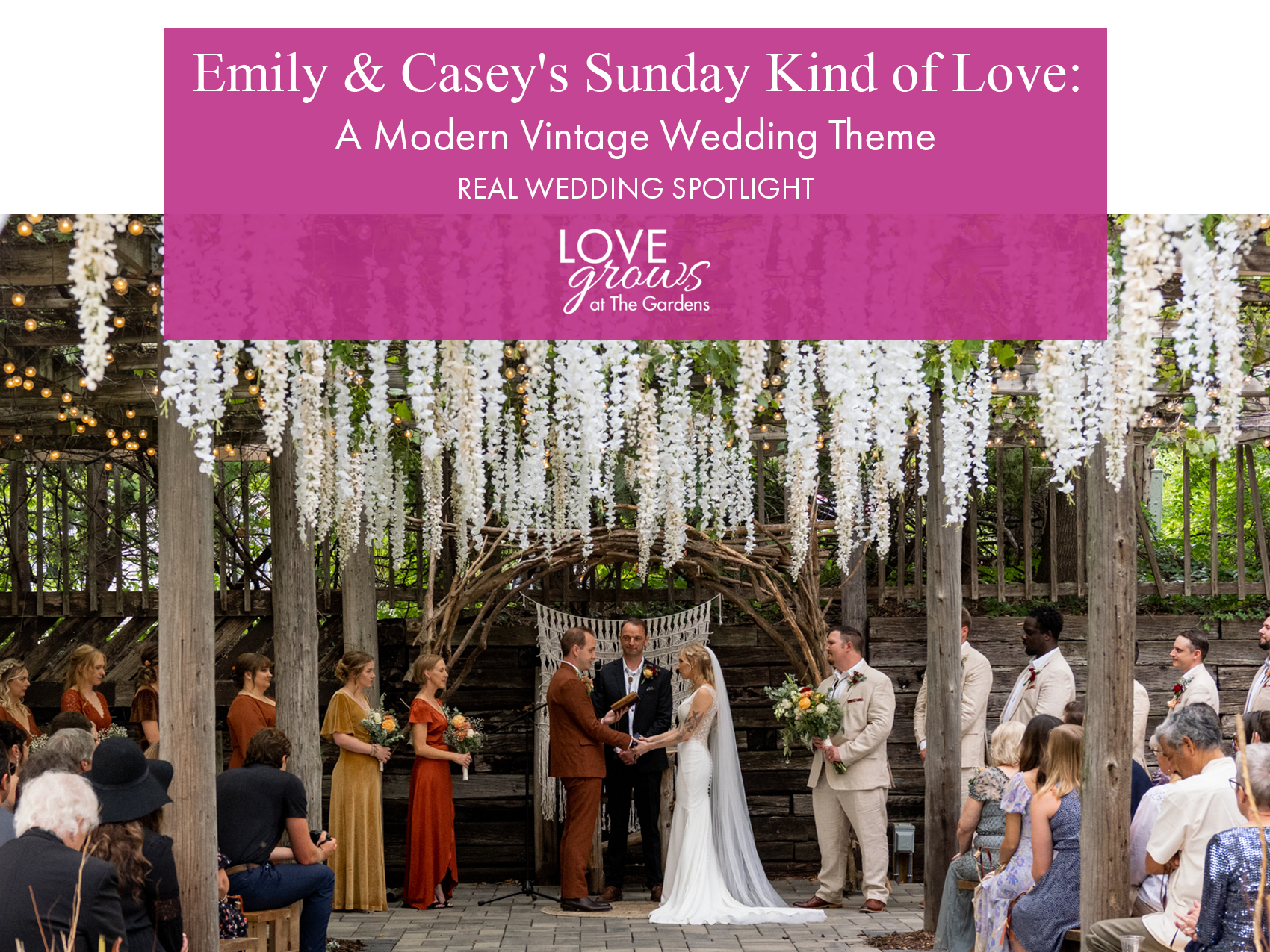 Emily & Casey's Sunday Kind of Love: A Modern Vintage Wedding Theme
A Real Wedding Spotlight of a Sunday Wedding at The Gardens of Castle Rock
Sunday weddings are for tattoo stations, disco balls, and live bands… wait, what?
Love Keeps the Cold Out Better Than a Cloak – Anna Bradstreet
Let's back up for just a minute. First, you need to know that Emily ventured out one chilly December night to support a friend who was playing in a band. Casey, the host of what they dubbed, "Bro-ing Up Christmas", was also playing at this party. In true retro-movie fashion, their eyes met from across the room. It was love at first sight. They graduated college, adopted a couple cats, and decided they needed an adventure.
Met with sub-zero temps in Minneapolis in 2019, Emily and Casey started a new life together, and were engaged.
It only made sense, then, that Emily and Casey were again met with a cold bite in the air when they first visited The Gardens of Castle Rock in May of 2021. Even so, there were stars in their eyes as they walked around the grounds. They snuggled up and talked about how to design each space at The Gardens to illustrate their fun, easy-going, "Sunday Kind of Love".

The Perfect Ceremony
Fast forward to September 11th – their wedding day. Contrary to their previous important life events, there wasn't a cold breeze to be felt nor a cloud in the sky. Their friends worked diligently cutting florals as Stargazer Designs hung disco balls, draping, and lights in the tent. Emily had spent months collecting vintage table decoration for each table and we believe it was well worth the months Casey endured walking a small path through their home.
Their wedding ceremony took place in the infamous Lath House. Silk wisteria and macramé created the retro-70s, bohemian vibe they had envisioned since the beginning. They exchanged powerful vows that had everyone laughing, tearing up, and laughing while tearing up. The lovely environment was only out-beatified by their love.
Emily and Casey's Dream Concert
As you may have noticed, music is particularly important to Emily and Casey, so they carefully selected a line up of incredibly talented individuals that mattered to them! Marcus DeJesus started the evening with patio entertainment during cocktail hour, HoneyButter had everyone swaying to the music while eating wood-fired pizzas by Vesuvios, and Mae Simpson raised the roof for the rest of the night. If you think that Sunday weddings are just for brunches and early nights, Emily and Casey easily proved that theory wrong!
A Picture is Worth a Thousand Words
Check out these captures from Emily and Casey's Sunday Wedding at The Gardens of Castle Rock.
Shoutout to all of the amazing vendors of Emily and Casey's super cool wedding day:
**Special thank you to Jojo Studios for allowing us to feature their gorgeous work in our real wedding spotlight!**
Wedding Gown: Mestads, Rochester
Bridal Jewelry: EnzeBridal – Etsy
Bridesmaid's Dresses: Baltic Born
Engagement Ring and Wedding Rings: MSP Jewelers
Day of Coordination: 2K Coordination
Decoration: Stargazer Designs
Catering: Vesuvios Catering
Beverage Service: LiquidMotion
Photographer: Jojo Studios
Entertainment: Marcus DeJesus, HoneyButter, Mae Simpson
Hotel: Fairview Inn and Suites, Burnsville; Best Western Premier Nicollet Inn, Burnsville
Hair Stylist and Make-Up Artist: Christina Luger
Are you considering a Sunday Wedding, check out the Sunday Wedding Trends for 2023 here!
Do you want a FUN wedding day like Emily and Casey's? Check out these 7 Ways to Guarantee Your Guests Have Fun on Your Wedding Day!