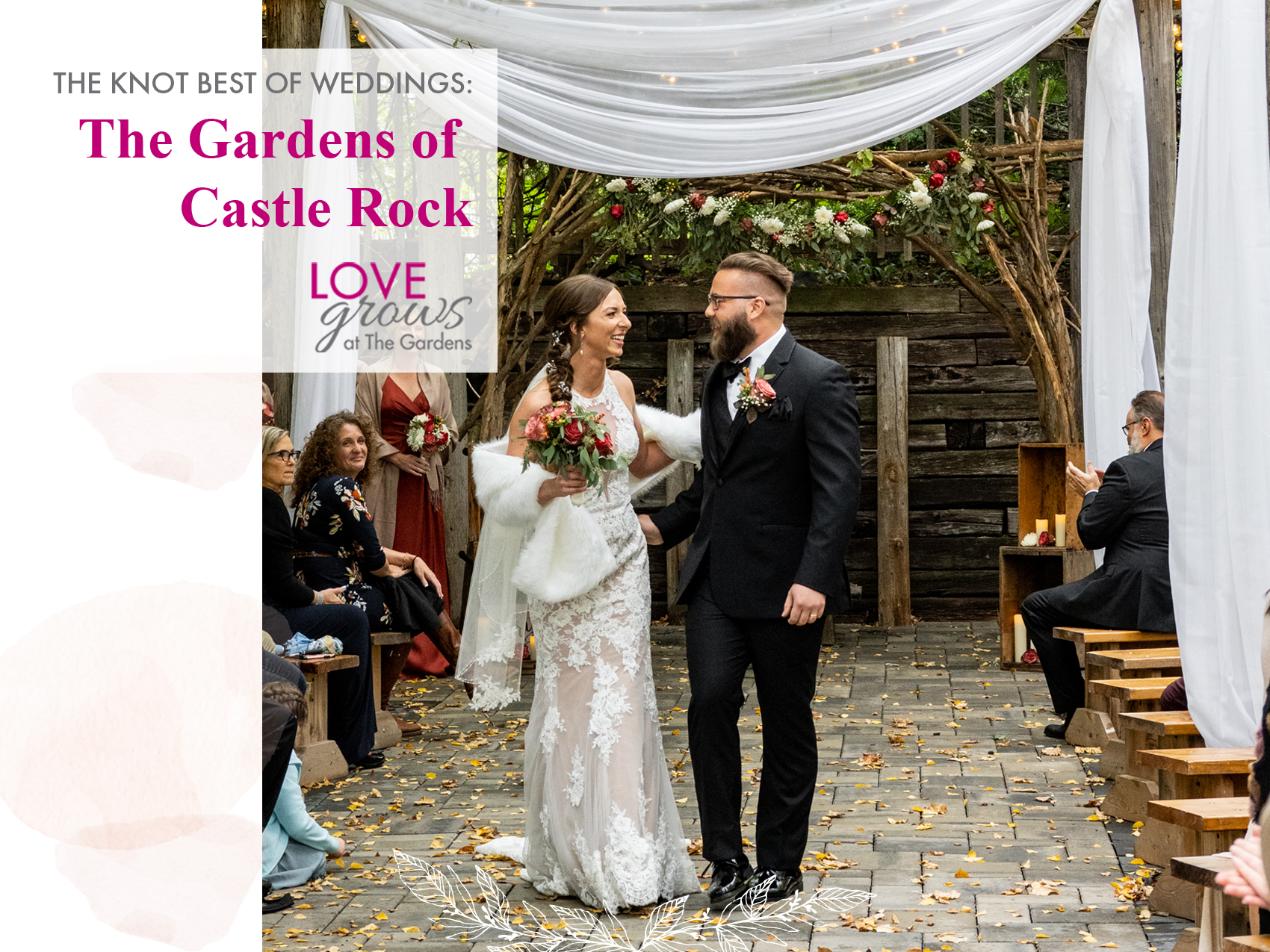 The Knot Best Of Weddings: The Gardens of Castle Rock
What Couples are Saying about this Timeless Outdoor Wedding Venue in Minnesota
Welcome to The Gardens of Castle Rock! We are a wedding and event venue in the lower south metro area – just a short distance from the Twin Cities. Here you will find beautiful settings for your outdoor wedding ceremony and reception or special event.
What a year! Couples (and their guests) from all over the world came to celebrate their love stories here at The Gardens. We are honored and so excited to share what these special couples had to say about their experience here at The Gardens of Castle Rock.* But first, check out this great recap of the 2022 season.
Makayla and Matt
"This is the most perfect venue. It's absolutely stunning and the staff couldn't be better. I would recommend this venue to anyone. Thank you for a PERFECT wedding day."
Stephanie and Joe
"The Gardens was the first and only venue we looked at! We couldn't have imagined a more beautiful place to say "I do!" We received so many compliments from our guests on how pretty the venue was I cannot say enough how perfect our wedding day was!! Thank you to the most incredible staff!"
Emily and Ben
"We found this venue on a top ten list of outdoor venues in MN and after touring it we knew it was going to be great! The staff is really kind, extremely knowledgeable, responsive, and fun! … Our guests absolutely raved about the venue the whole night and we were told by everyone how awesome the site was; some people even went as far to say that they had 'been to a ton of weddings and this is by far my favorite venue I have ever seen'."
Joanna and Jordan
"The Gardens of Castle Rock was the perfect choice for our wedding day! From the get go, the team at the Gardens was so helpful. [Venue owner, Glenn] has designed and built so many beautiful structures on the property. All our guests were amazed by his work and all the little touches the Gardens have added to make the place look magical. 100% recommend this wedding venue!"
Sam and Nick
"The team at GOCR is so easy to work with and very accommodating. We chose this venue because of their open vendor policy and their openness to our desire to have aerial and fire performers at our wedding. Throughout the planning process, Kris and Heidi were always there to promptly answer all of our questions and guide us through the planning process. The venue itself is absolutely gorgeous and our guests raved about it! We so appreciate everything the team at GOCR did to make our wedding day as perfect as it was!"
Hannah and Rhett
"Great venue! The workers were helpful and respectful. This venue is beautiful to the point that decorations can be minimal and your wedding will still be stunning."
Nicole and LaKoda
"I can't say enough how beautiful and perfect this venue was. They were so easy to work with, and Glenn and the gardens staff made our day so memorable and magical. We had so many people come up to us and tell us how pretty the venue was and that they wanted to have their weddings there! Thank you again to the Gardens of Castle Rock for making our day so perfect and everything we ever dreamed of."
Renee and John
"[The Gardens of Castle Rock] was absolutely perfect for us and was the first and best decision we made planning our 120-person wedding. It was important to us while planning during Covid to have an outdoor venue and plenty of space for our guests… We had our ceremony in the Lath house, which was absolutely stunning in early October… The property had a lot of great spaces for photos, and everyone was raving about how beautiful it was. We wholeheartedly recommend the Gardens of Castle Rock and the amazing team!"
Nicole & Jared
"Highly recommend getting married at The Gardens!! Such a picturesque venue, it is beautiful whether you decorate just a little or go all out. If you're like me and love outdoor lights, this venue will bring your dream wedding to life."
Are you ready to start your journey to the best day ever? Want to know more about The Gardens of Castle Rock? Here are some helpful links:
The Garden's Story… What Makes is so Special
The Ceremony at The Gardens of Castle Rock
The Reception at The Gardens of Castle Rock
*These reviews have been trimmed for the purpose of blog length. To read their full reviews plus others, visit The Gardens profile on The Knot.
Photos not credited to a photographer are by Gardens of Castle Rock staff.