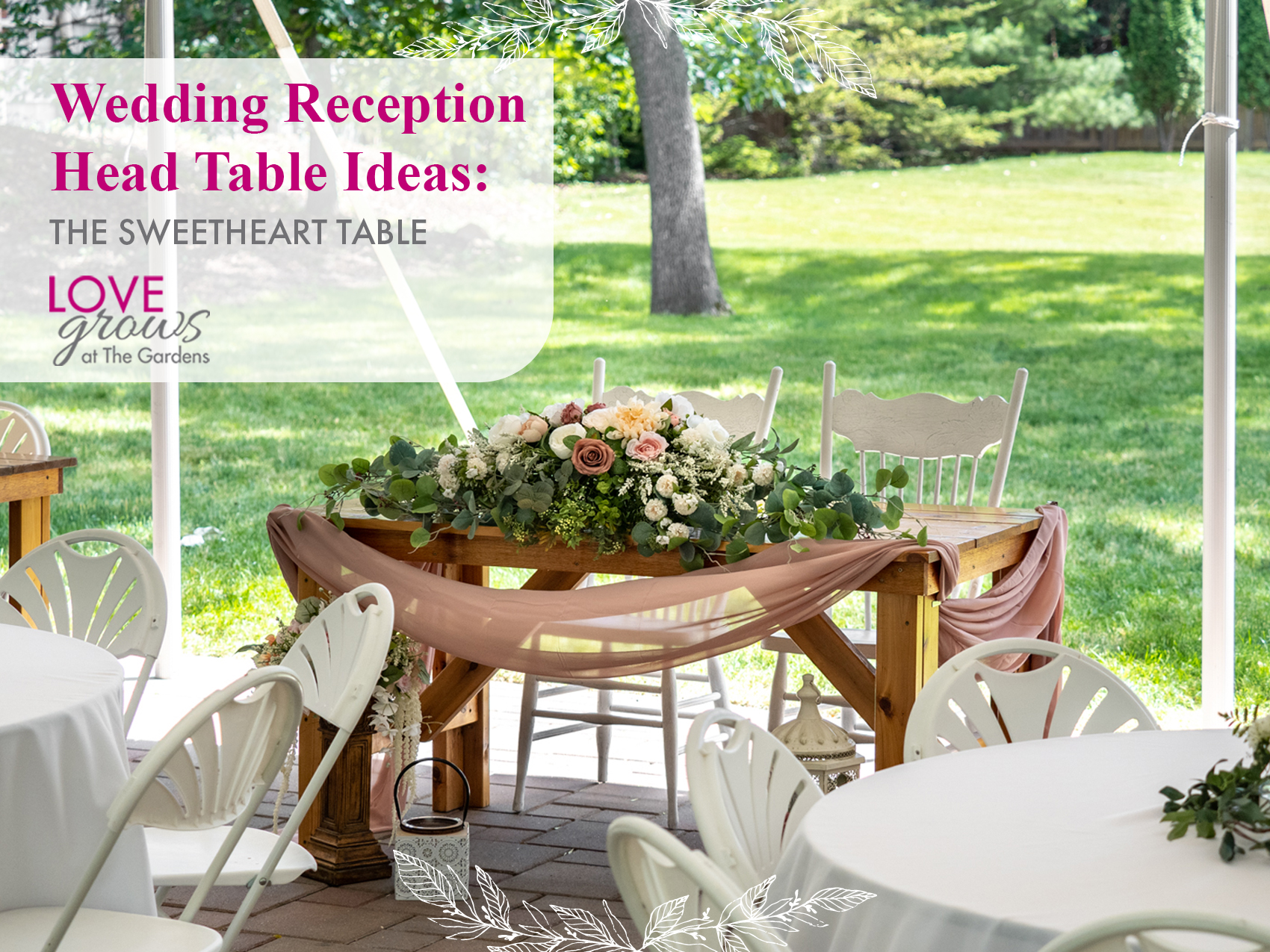 Wedding Reception Table Ideas: The Sweetheart Table
Make your wedding day all about YOU by integrating the sweetheart wedding reception table into your intimate outdoor wedding setting.
It's no secret that your wedding day is all about you and your sweetie. Each aspect of your wedding day should reflect your style, interests, and personality! Are you looking for an alternative to a traditional head table or simply want to snuggle in with your new Mr. or Mrs.? Enter the Sweetheart Wedding Reception Table.
What is a Sweetheart Table?
Sweetheart tables are meant for, well, sweethearts! By Google's definition, they are smaller tables that solely seat the newlyweds – but that doesn't mean that's the only way to incorporate the sweetheart table. Not only can sweetheart tables be on the larger side, they can also be used within the traditional head table line-up for extra leg room and comfort.
Why Choose a Sweetheart Table?
The sweetheart table makes a cute AND functional head table! Cute on it's own, but also functional in a traditional head table line up (what newlywed wants to be separated by table legs?). Here are a few more reasons…
You Get a Chance to Be Alone
We know you love your bridal party. You wouldn't have picked them if you hadn't, right? It's okay to hang out with just your new spouse for supper time. Plus, this gives you a chance to wind down after a whirlwind of emotion, pictures, and lots of talking to long, lost relatives. Step away from the chaos for a moment and chat with your best friend!
Your Bridal Party can sit by their Plus-Ones or Family
Have you ever been sent to sit with your date's Uncle Jack because they were at the head table? Then you probably know where we're going with this. Let's just say Uncle Jack's extensive collection of dad jokes are amusing… but may get tiresome after some time. Also, your bridal party may be looking to take a breather from being in the spotlight. There's no rule book when it comes to head table arrangements (at least… not here at The Garden's of Castle Rock!), so there is nothing saying you can't arrange their seating near by.
They're Photogenic!
Your photographer is going to want a great view of your reactions to funny, loving, or maybe embarrassing stories told by your family and friends. When displayed on its own, the sweetheart table provides a great view of you for everyone!
You Can Splurge or Get Creative on a Budget!
Splurging on distinguished floral arrangements, notable head table décor, or fancy seating can be super fun with a sweetheart table! Opt for special rental items, such as formal place settings or fancy chairs for just the two of you instead of your entire bridal party.
How Do I Decorate a Sweetheart Table?
If we had a nickel for every couple that couldn't enjoy their reception because their head table wasn't decorated perfectly… Spoiler alert: We have yet to collect a nickel for this… So, enjoy the process! Here are some ideas to get you started…
1) Stick with your theme.
2) Pick Some Cozy Seating
3) Choose a Linen, Runner, or Garland. (Or don't!)
4) Create Your Centerpiece
5) Add Some Twinkle
6) Consider an Interesting Backdrop
7) Set The Table
8) Add Some Signs
9) Tell Your Story!
10) Enjoy YOUR Day!!
More Sweetheart Table Decoration Inspiration
That's all there is to it! Okay, we get it. There's lots to decide. Keep scrolling for more Sweetheart Table Inspiration!
Click here for even more Unforgettable Wedding Reception Table Décor inspiration.
Looking for more head table suggestions? Check out the King's Harvest Table and The Garden's Original Rustic Refined™ Head Table!
Unless otherwise noted, all photo credit by The Gardens of Castle Rock.  To see more images of The Gardens, visit our website gallery.