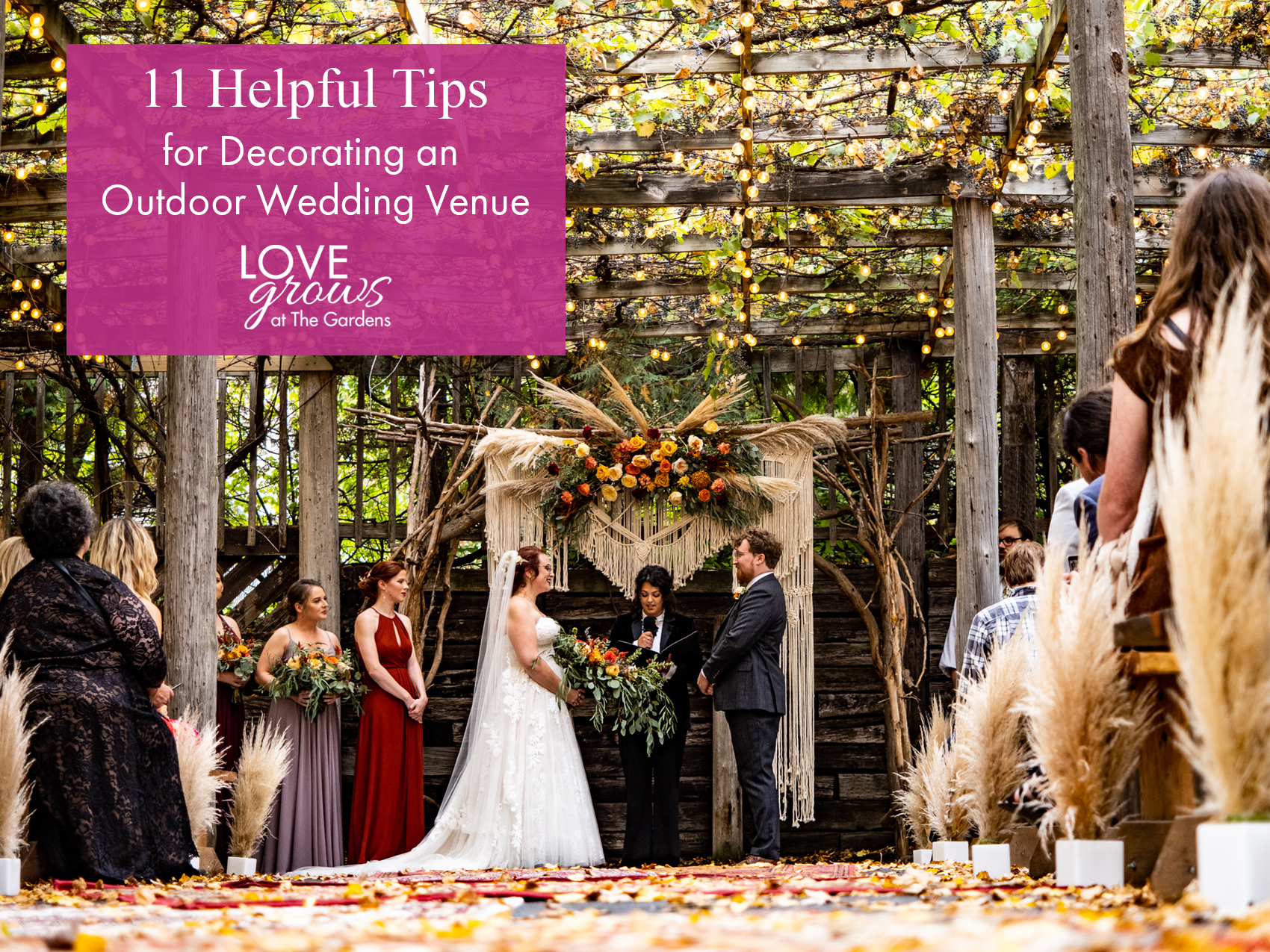 11 Helpful Tips for Decorating Your Outdoor Wedding Venue
Make Your Best Day Ever Seamless and Unforgettable
Saying "I Do" under a canopy of nature, listening to the sweet songs of the birds, having space to breathe… these are just a few reasons couples decide to choose the great outdoors for their wedding day. We may be a little bias, but choosing an outdoor wedding venue for your wedding day definitely has it's perks and we're here to give you a few tips for decorating your outdoor event space.
1. Consider the Season!
Use nature! Too many signs and decorations can take away from an environment's natural beauty. The best part of getting married at an outdoor wedding venue is the constantly changing scenery with each season.
So use the leaves as a floor! Use the lush leaves of the trees as a perfect backdrop. Make sure the color tones of your floral installations don't clash with the environment around them. We're not saying you can't have pops of color, but colors like bright hot pink next to the muted neutrals often clash and are distracting.
2. Make it Element Proof
Wind, Rain, Hot, Cold – Minnesota gives us plenty of reasons to be weather prepared. So bring on the floral wire, industrial easels and zip ties!
We recommend high top table linens that are tied at the center or tight to the tables along with reception table linens that are long (to avoid wind blowing your linens away). Avoid glass whenever possible. Wide-based vases are the way to go along with plexiglass for signs. You wouldn't want your reserved seating chart to come crashing down!
3. Adorn with Garlands and Draping
You want your wedding venue space to reflect your style and to transport your guests to another place! Loosely draped garlands to statement draping and light combinations can elevate your outdoor wedding ceremony and reception space.
Garlands
When it comes to garlands, they come in all shapes and sizes – Classic to Modern, we love it all!
Garland décor ideas include: suspending green wreaths by your head table, incorporating organic garland at your ceremony site (like Rachel and Graham pictured below), attaching greenery to statement lighting, suspending it in the air above the head table or dancefloor, or even installing a trellis.
Draping
Billowing fabric adds an ethereal element to your wedding day. Sheer white, blush, or a pop of color fastened with florals, twinkle lights, or an exceptional lighting design will transform a blank slate into a masterpiece. Talk about romantic wedding day vibes!
4. Make a Statement with Floral Installations
Instead of just bouquets on tabletops (especially in your reception area), think about using floral installations to fill your outdoor space. Suspended greenery and impressive floral arrangements take your guests from "Wow!" to "How?" These artistic and impressive details give your outdoor wedding venue an untamed garden vibe.
5. Seek out Eco-Friendly Decorations
Your wedding is meant to be a celebration of love and one of the greatest days of your life but, unfortunately, it can be one of the most wasteful days. We're not saying you should skip the party or forgo those gorgeous details, but we recommend reusing and recycling as much as you can as well as avoiding décor that is harmful to the environment (such as glitter, rice or balloons).
Rent or borrow your décor: Check with family and friends to see what they have for you to use for your wedding décor. (You never know what cool vintage items you'll find in Grandma's basement!) You can also check with a professional decorator, your professional day-of-coordinator, bar or catering services to see if they have any included items for your special evening to rent or borrow.
Donate your decor: If you decide to go all out with a floral installation, there are great places for you to compost the florals or even donate them. Twofold Blooms, a local non-profit in Minnesota, repurposes florals from weddings and makes them into smaller bouquets for seniors in memory care or hospice.
6. Bring the Outdoors, Indoors and the Indoors, Outdoors!
Wedding trends will always come and go, but you'll find that an outdoorsy, natural wedding is always a popular choice. So, why not mix and match the elements to really bring the space to life? So hang greenery in The Garden's reception tent. Drop a vintage couch behind The Garden's Fireplace. Make your outdoor space unique and "so you".
7. Set Up Plenty of Food and Water Stations
Your guests will need plenty of water and snacks on a hot summer day. Snacks and drinks (not just the alcoholic kind) keep people happy…which makes your wedding day more enjoyable and memorable. Infused water tables and donut walls are definitely a fan favorite.
8. Provide a Photo Station
Hire a booth or make a booth! Photo stations provide excellent entertainment for guests of all ages and they get to take a special souvenir home from your day.
As an outdoor wedding venue, The Garden's has plenty of fun spaces to convert into a photo station or to park your favorite photo camper.
9. Don't forget the Night Lighting
As we approach the holidays, you can appreciate the magic of driving through town and seeing the general décor, but then coming back at night to see an entirely different show! A few strings of twinkles can take you far.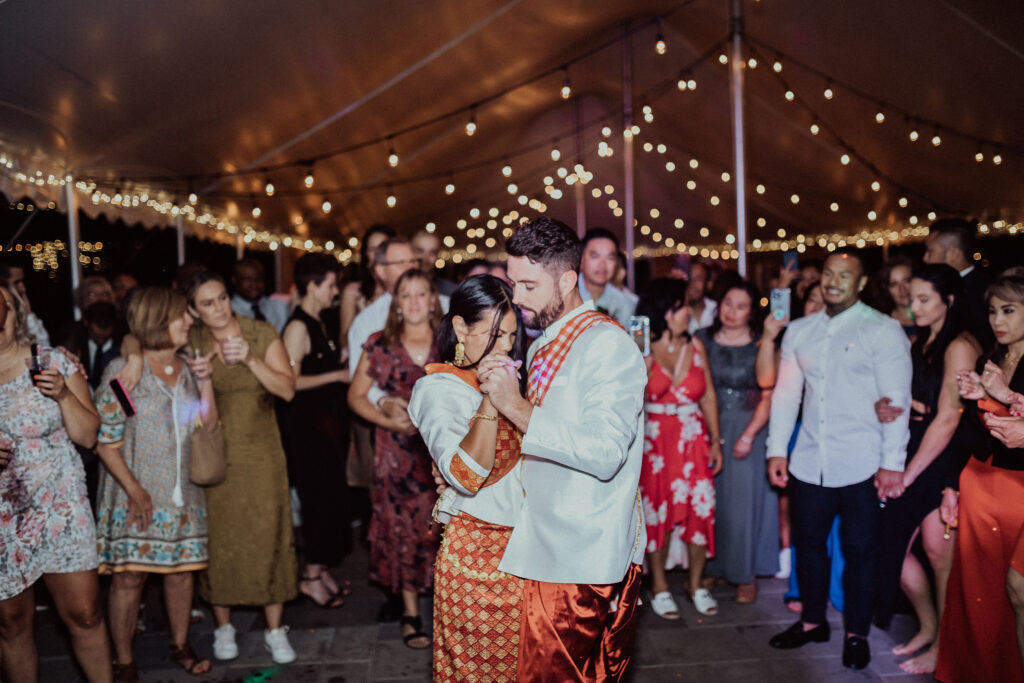 Steph and Joe's family and friends gathered around to witness their first dance under the magical twinkle of this lighting design in The Garden's Reception Tent by Stargazer Designs. Photo by: Moore Photography
10. Bring a Tool Kit
If you wonder if you're going to need a certain tool for set-up. Bring it. Better yet, bring two. For example, many outdoor wedding venues require that you bring your own ladder for decorating. We suggest bringing one or two – especially if you have several people helping you set up the morning of your wedding.
Other helpful items to bring for set-up include: Scissors (again, bring several sets), zip-ties, extra draping and linens if you are providing these, extra strings of lights if you are providing these, and twine or floral wire.
Even better than worrying about bringing a ladder, you can…
11. Hire the Professionals
When it comes to decorating your venue, sometimes it's hard to decipher what YOU should do, and what the professionals should do. Your budget matters, but so does your sanity.
Professional decorators know how much fabric they need to fill the space and make it look intentional; They have extra lightbulbs and replacement light strands; They have the biggest ladders you've ever seen to get the draping and lights nice and high; They come back at midnight to take everything down so you don't have to worry about it. The list goes on and on and we believe they are worth every penny.
You don't have to take our word for it, ask a professional decorator…
We've Got it Covered
Here's what Erin, owner and lead designer of We've Got It Covered, said about decorating an outdoor space: "When decorating for your outdoor wedding, consideration must be made for various weather. I recommend hiring a professional for any outdoor décor because they have the experience to ensure the décor will be secure to hold up to the weather."
Stargazer Designs
Michelle, owner and designer with Stargazer Designs, gave us valuable advice for decorating an outdoor space: "Using quality materials in the correct scale makes all the difference! The best way to stretch your budget when decorating for your wedding is to concentrate décor in specific areas and make them Instagram worthy. This can be done through color, lighting and using statement pieces. Whether they are flowers, vignettes, or props, focal areas need to catch the eye, and capture your guests' senses."
Looking for more outdoor wedding decoration inspiration?
12 Memorable Outdoor Wedding High-Top Table Décor Suggestions
Wedding Reception Head Table Ideas
Unforgettable Wedding Reception Table Décor